Installer is back up. Sorry for the long wait.
The installer's about 350 MB, it unpacks to twice that amount. For those of you not in the know, this release will let you bomb through the introductory section and first level out of four planned levels. Check out this handy map for your visual reference pleasure: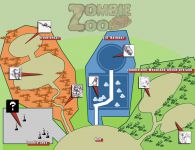 Whether or not we'll actually be providing those other levels is a question to ask us some other time. Zombie Zoo's fate is still undecided beyond this release. The current release is very rough around the edges. Trust me, we're aware of this. That being said, learning these tools as we went along and starting out with a team of only four people (it ballooned to ten during the second semester), we're quite proud of the final product and hope you enjoy it for what it is.
If you're wondering what the deal with the preview image of this news post is, that strange red thing behind the text is Blobmonster. He was our quadruped stand-in we used in the game while we were still working on modeling and animating the animals. He came in red, yellow, and blue and he will be missed.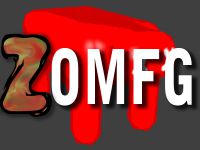 Also, I've uploaded the re-edited Introduction animation. It's very similar to what was up there before, just a few small changes and additions. Anyway, that's all. Go grab the mod and let us know what you think!
Love,
semicomatose and the rest of the Zombie Zoo team