Introducing Zombie Warfare Update #5
Welcome to the fifth Zombie Warfare Pre-Alpha weekly update. In this post, you can find the latest things added into the game during this week. During the last few weeks, there weren't weekly updates because me and my sister have participated at GMCJam #15 with a game called "Tower's Soul Is You". The votes aren't closed yet, so let's hope that some other will vote us :)
But let's talk about Zombie Warfare. This update is a very small update, probably the smallest released until now and we are very sorry about that, let's hope that the next update will be bigger!
In this update, we added the sun and the pause menu.
A desert without sun?!?
As you maybe know, the only world that has been already added in Zombie Warfare is the desert. Some days ago, we figured out that in our desert there was no sun. We immediately started working and we added a very nice-looking sun. In the .gif below you can see our animated sun in action!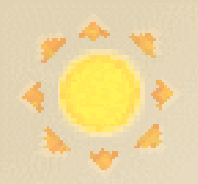 Tea break
In the latest hours, we have added the pause menu. If you press the escapee button, a small window will pop up and the game will pause. From here, you can resume the game, return to the Hideout (the menu where you can buy weapons and select missions) or exit the game. The pause menu works well, but we'll probably change it a bit in the next updates. Below you can see the pause menu with his polished animations.
This was the Zombie Warfare Pre-Alpha Update #5. I know it was small, but it's because the GMCJam and because it's summertime (and isn't it great?). I hope you liked this Update, don't forget to leave a comment with your opinions or suggestions and see you the next week with the new Zombie Warfare weekly update.
Thank you for reading this article,
Nyo, Famega Developer
We'll see again...
Every week on Wednesday on IndieDB for the new weekly update. Every week on Saturday at 6:00 p.m. (18:00) CEST on my Twitter Profile with #screenshotsaturday for a preview of the next update.
Don't forget to track this game to show that you are interested in this game, get notified when new updates are out and get (as soon as possible) some special gifts!