Today, a small but important Zombie Panic! Source update has been uploaded to the Steam servers and is now available for you to download! The purpose of v1.5.2 is to address a few minor issues that have been brought to our attention. To get your hands on this baby, simply launch Zombie Panic! Source in your games list and it will automatically download.
As most of you know, Tatsur0 has gone away for 3 months and won't have internet access until he comes back, but that doesn't mean that we are at a standstill. We are still working hard to bring you new updates of ZPS and I'm sure you won't be disappointed. In the meantime, enjoy the mod and this new update.
Changelog:
=====1.5.2 (4-3-2009) ======
-Made several exploitable server commands "cheat only".
-Fixed weapon highlight on the Winchester.
-Added cvar "sv_zpoldcol", giving server owners the option to enable old collision (no walking through teammates).
-Updated Harvest (Exploit fixes and added new escape veichle).
-Updated Haunted (Setting is now nighttime, fixed exploits).
-Updated Cinema (Fixed exploits).
-Updated Policestation (Fixed exploits, removed desk in "camproom" and added barricades).
-Updated Town (Exploit fixes).
-Updated tips on loadingscreen.
====================================
I would also like to remind you, once again, that our Level design competition is coming to an end on the 15th of April! Remember to send your entries to zombiepanicissues@gmail.com in time for the deadline and include all the necessery files (bsp, vmf, any custom materials).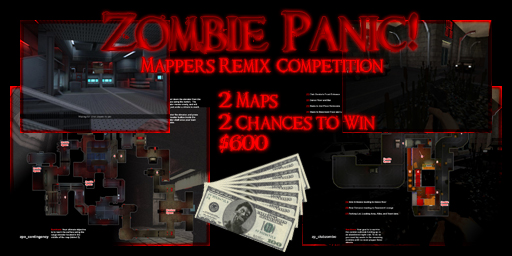 We are really looking forward to playing all your levels.
Until next time, see you around!
- ZP Development Team