Okay, so to the Zombies and how to deal with them? Basically, you collect items found lying around the office; paper balls, DVDs, paperclips and more. These items are used as projectiles to be flung at the advancing Zombies. Although, you'll have to find something better than paper balls pretty darn quickly.
Also, quite inexplicably, there are mines and other devices lying around the office which you can use to devastating effect against the Zombies . Plain old explosive mines are great but repellent mines work wonders against multiple Zombies if you find yourself in a tight spot. There's also gas mines, time bombs and spike traps. This variety of devices is designed to provide choices in how you form your own individual Zombie-Killing strategy.
Here's a shot of the player's inventory and character stats: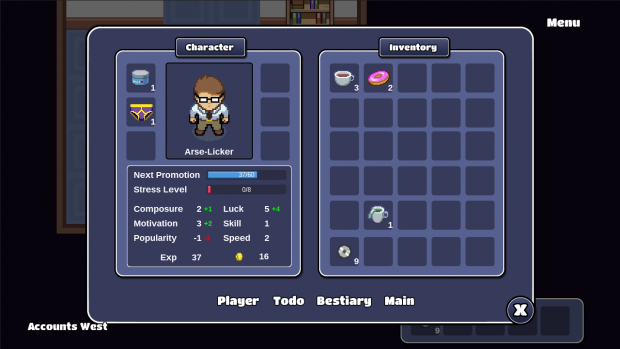 There's also a wide range of in-game items that you would normally find in any office. Use Coffee to boost your speed, herbal tea increases your composure so you can handle stressful situations - taking less damage when zombies attack. Donuts boost your skill stat helping you inflict greater damage with projectiles.
Here's a shot of some of the in-game items: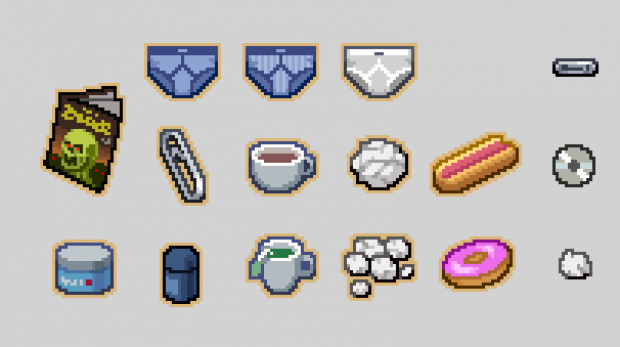 Equipment in the game can be anything from hair gel which increases your popularity or even a pair of second-hand underpants that increase your luck but as you can imagine, reduce your popularity.
All kinds of items and equipment can be purchased at vending machines distributed throughout the levels. The player can also sell back unwanted items to the vending machines and other types of vendor.
Here's a shot of the vending machine interface: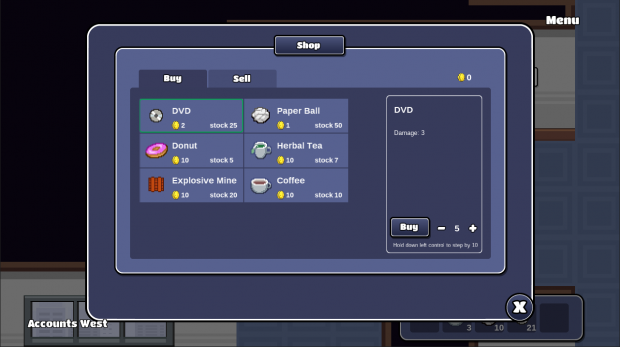 These are just some of the items featured in the demo - there are many more to be added. If you haven't tried out the demo yet (or you want to try it again) head over to Gatesidegames.com
Here's a preview of the demo:
As always thank you everyone for your interest and support for this project :)
Jeff