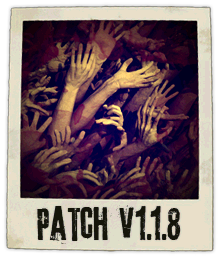 Patch v1.1.8 for Zafehouse: Diaries is now available. This patch improves a number of areas of the game and adds a solid dose of content, including a new dilemma, Overwhelmed, and showering, an idle task.
The custom occupation editor has been expanded on, making it more flexible than ever and we've even implemented weather effects to keep things interesting.
The Overwhelmed dilemma has a chance to occur when your group faces staggering odds after breaching a location. You'll be able to retreat to, hopefully, a safe location or, if you're feeling lucky, try your hand at more heroic options.
Getting around during a zombie apocalypse is not the cleanest affair, so your survivors will accumulate grime and if left idle, will now occasionally wash themselves. Doing so will provide them with a small morale boost.
We felt the towns of Zafehouse: Diaries were drier than they should be, so now it'll occasionally rain and storm. As you'd expect, noise doesn't travel as far under these conditions, so be sure to take advantage of the weather when you can!
Several dilemmas, including the Lynch Mob, Moby Dick and the Girl Scout Family, now feature an assessment of your survivors' chances if you decide to fight. As a result, it should be easier to make more informed, strategic decisions regarding these encounters.
Finally, for users with high-resolution displays, a scaling option is now included so that game takes up most the screen. It is currently experimental, so if it doesn't work as expected, let us know so we can tweak it!
As usual, all the patch notes can be found on the forums.