We're happy to announce YSWMI Update 1 is live today!
Changes:
Linux Version: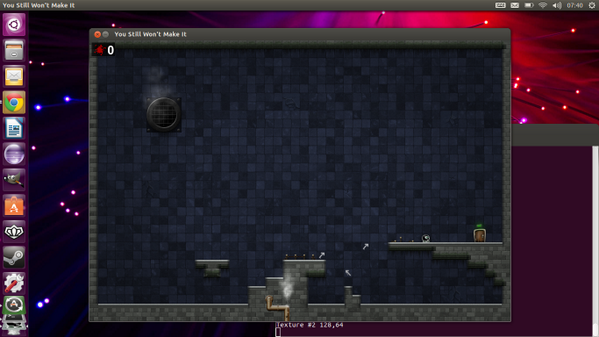 An awesome Linux version of YSWMI is now live! We've tested it on Ubuntu 13.04 but we're guessing it should run on any Linux system with the right dependencies installed (and, of course, you can download the free and awesome Linux demo to test out the game on your system first).
18 New Levels:
The 18 Classic levels from You Probably Won't Make It have been added to YSWMI, all with fancy new graphics! Try them out, they're really hard. :)

Japanese:
こんにちは!ベットラー・ゲームズです!YSWMIの日本語の翻訳はすごく格好いい!
With that (probably) poorly written and grammatically incorrect Japanese sentence, we introduce You Still Won't Make It to the land of the rising sun. With a (hopefully) grammatically correct translation of the game, courtesy of a native speaker, that is. If you have any Japanese friends, please let them know about the game!よろしくお願いします!
Korean and Chinese soon to come!

Gamepad support:
We've fixed the gamepad input on the game itself (a bugfix), and we've added gamepad support to the main menu, for good measure. There's still no support on the Options screen, but it's a nice start. :)

Bugfixes:
We've reduced the memory footprint of the game, as well as patching some pretty massive and embarrassing memory leaks. Amongst other things. Full screen mode on Mac OS X now fills the entire screen, too.

New death effects:
We'll keep it a secret, but you might find them fun, or not, depending on your tastes. Go complain to Marty with your pitchforks and torches, it was his idea after all. ;)
So, with that said, what are you waiting for? Go play the free update today, or if you haven't done so, buy the game on Desura for only $4.99! And, of course, be excited for the upcoming YSWMI Update 2!