Hello, Commander...
It's been a long time since last update. The reason behind my disappearance at modding is because I'm demotivated (facts) and busy with my job (and I finally adapted it). But now here we are.
Before we are going to the point, we thanked everyone that (still) support this mod! YRNW's progress had made the mod's version into 0.71 Unstable, many thanks to our contributors! Don't miss an update from our mod by tracking it and join our Discord server!
(Note: By joining the server, you can instantly download our latest 0.71 Unstable version!)
Now let's to the point. In this case, we are going to show you some of our progress including LOTS OF REWORKS!
1. Irradiator
Credits to LaoTze for the graphics and Apollo for the animation.
Irradiator is a Stolen Tech unit from Allied for Soviet. It was available at New War, but it didn't perfectly suitable as a special unit. We decided to rework it and give him new weapons. Irradiator is like a vehicle version of Desolator, but better. He can't deploy to radiate. In exchange, before attacking enemy, he radiates and then attacks the enemy using special Rad Beam weapon. It has few damages, fast attack and can disarm enemy unit. Upon his death, he will radiates the place 25% higher than the ordinary one. He is fast, might be the fastest hover unit in New War. His weakness is he can be easily beaten by Terror Drones really fast and can disarm Irradiator's Death Weapon.
2. Kabus/Jalal
Credits to Anti_Surface for the graphics and Apollo for the animation.
Kabus (Ahmed Jalali) is a Soviet commando from Iraq who gained Nuclear radiation immunity during experiment and able to control massive Nuclear man-cannon at instance. Due to his heavy nuclear equipments, he can radiate any nearby enemies like a walking-radiation. The most unique is his weapon. He is a Support Hero type that can debuff enemy armor depending by their Armor Tier! The lower the tier, the more vulnerable they are!
3. Shen Lin (was Shen Quan)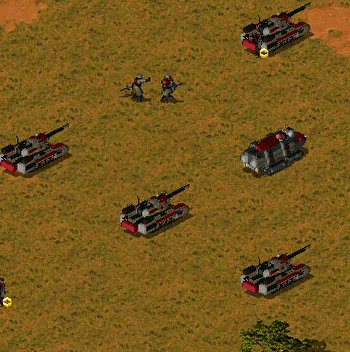 Credits to Anti_Surface for the graphics.
Shen Lin is a female Soviet commando from East division who operated during the Third World War. She has another name called "Red Lotus" and "Fire Dragon" which describes how in fire she is at battlefield! She is more like Soviet version of Tanya. She is armed with grenade launcher and a bunch of Molotov bombs!
4. Ronco Pietro

Credits to Anti_Surface for the graphics and O-C for the animation.
Ronco is a squad leader in Allied who received medal of honor after rescuing Einstein safely during Third World War. He is given an assignment to test Einstein's new "Glacius" freeze rifle prototype and a Chrono Suit. His other nickname is "Ghost" because of his swiftness and chill presence. The freeze rifle can debuff enemies depending their types. Ships can't move if get hit by this weapon.
(and lots of stuffs undocumented)
---
Not only reworks but we also provides SHOWCASE AND GAMEPLAYS!
1. New War Voice Showcase #1
2. New War 0.71 Unstable Gameplay
Here are some gameplays by me and Aether Cloud!
Last but not least, we have new soundtracks thanks to Scar Tissue and Tiberian Sons! Make sure you check them out and support the band!
Special thanks to ARES for new modding features and Rampastring, Kerbiter, Starkku, and XxpeddyxX for CnCNet Client Configuration!
After reading this, you might wondering why the mod haven't published here yet. It's because it's still in Unstable/Testing phase. We will release the Stable version maybe after ARES 3.0 is officially released.
There is something that you should know that we are looking for someone wanted to work with us for the mod. We are still open to streamers, mappers, 3D modeller, voice actor, and much more. A single nor double contributions are welcome. For more information write an e-mail to reaperz.death2@gmail.com . Be one with us...