Hello, Commander...
Before we are going to the point, we thanked to everyone that support this mod! For someone who aren't willing to miss updates from our mod, you do better start to track our mod. In this moment we are showing our new logo concept, new country flags, new units, and Observer Mode.


This haven't finished yet, it is still a concept, but worth to be showcased and judged. Give us comments, suggestions, critics for the logo.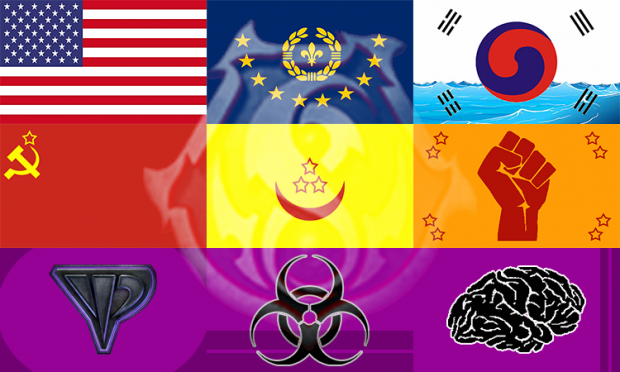 We have revised our country flags and country names.
From top left to top right: United States, Europe Federation, Eastern Alliance
From middle left to middle right: Union of Soviet Socialist Republics, Global Liberation, Eastern Revolution
From bottom left to bottom right: Prime Ministry, Warfare Arsenal, Psychic League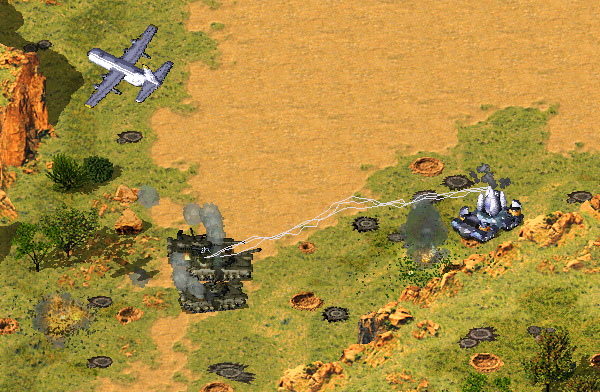 This is a combo between Support Gunship and Storm Tank that incapitate groups of Siberian Tanks.
Support Gunship is one of Europe Federation's Support Power that will attack the designated area for six times with Gunship's Cannon Gun. It cost $1500 and requires Tactical Station. The voxel made by Moder.U.
Storm Tank is an invention from Eastern Alliance that importing Weather Controller Rods to their prototype. It generates mini-cloud that can storm enemy units and they will be immobilized for one second. It cost $1300 and requires Tech Center. The voxel made by MadHQ.

Now you are viewing AI vs AI as an observer. Observer Mode known as one of CnCNet 5's feature. We are in progress on be integrated with CnCNet 5 and its feature. This is just the beginning. Thank CnCNet Developer for this. Head to CnCNet's website and grab one for your Yuri's Revenge multiplayer needs!
There is something that you should know that we are looking for someone wanted to work with us for the mod. We are still open to streamers, mappers, 3D modeller, voice actor, and much more. A single nor double contributions are welcome. For more information write an e-mail to reaperz.death2@gmail.com . Be one with us...