During the game, you will gain enough experience to reach the maximum level, set to 20. For each level up, your character's attributes are updated, and you win a few points to spend in your Skill Book.
The Skill Book allows you to customize your Skill by adding side-effects. (Effect bonuses). You must spent at least 1 point to turn on a side-effect. A maximum of 10 points can be spent in an effect (each point increases the effect bonus).
One thing to keep in mind : The Mastery.
This attribute is link to a skill and represents the mastery of your character when he uses this skill.
It will automatically be updated accordingly to your game play. The higher the value, the higher damage. (in case of an offensive skill).
You can see all masteries progress bars in your Skill Book. Each skill contains 5 dedicated bonus effects. Two of them are desactivated at the start. These bonuses effect can be turned on by many ways like Craft, or quests rewards, looting, treasure chest or PvP rewards.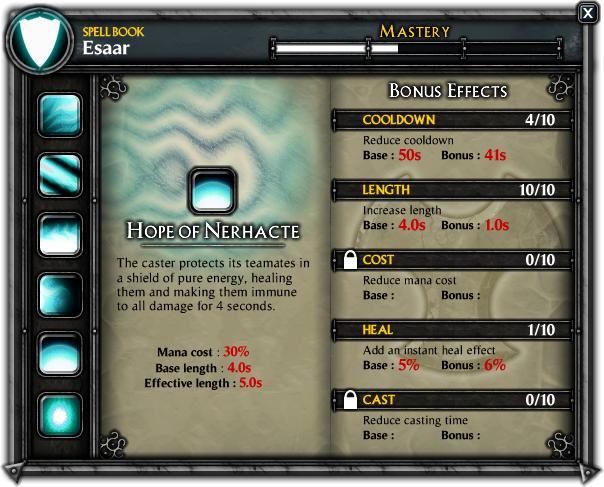 There are many effects, some of them are listed below :
- Cooldown
- Cast time
- Length
- Mana cost
- Range
- Healing
- Stuned
- Slowed
- Sleep
And others to be discovered...