Think of Xenocell as an MMO meets sandbox meets Battlezone. It is an online persistent action-strategy game in which players take on the role of marooned colonists who crash-land on an alien planet.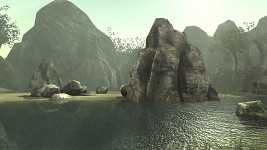 Xenocell might as well require a new genre definition, but massively multiplayer sandbox action-strategy is what fits best - as long as that description may be. It takes place in a huge, persistent alien world where the player is free to explore, build and conquer.
Each player gets an entirely different play experience. There are no traditional starting zones in Xenocell - you start from where your life-pod crashes into the ground. One initial goal is to explore and find a place where your home can be constructed. Then gather resources and start building other things - like a faster vehicle, better equipment, turrets and NPC guards or an entire city run by your clan.
Much of the content in the game is created procedurally. The terrain and even entire ecosystems are carefully pre-generated data. There are over 4,000 zones in the game, most of which are available for conquering by player clans. Every neighboring zone is connected by warp gates - teleports for arrival and departure. Whoever controls a zone also controls the gates to it.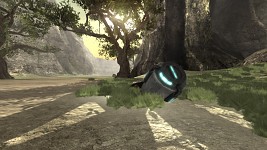 Xenocell employs game mechanics that add multiple layers of strategic approach to the game and let players find solutions to problems in several ways. One unique feature of the game is being able to construct alarm triggers that alert the owner when a zone has been breached - directly posting to a medium of choice, such as Twitter, Facebook or an email address - making the game reach out for the player when the persistent living world of the game requires one's assistance. Although it is possible to hire NPC mercenaries and construct defense turrets, this feature lets the player or an entire clan personally investigate an event at the time it happens.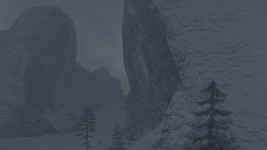 Although the game is very close to completion, the team needs $20,000 to help launch the title and support it through the first two months - during which we hope the game could become self-supporting. Xenocell is going to be free-to-play with an optional low fee subscription model to access content intended for the more hardcore players.
Be sure to check out the game homepage at www.xenocell.com and the fundraiser at indiegogo.com/xenocell, or watch the campaign video with optional English, German, Spanish and Hungarian closed captions here:
Here are some of the recent responses from the press:
Justin Olivetti, Senior contributing editor, Massively:

Xenocell is almost ready for launch, but it needs your help to get across that finish line! Wait, you say you've never heard of Xenocell? That's probably because it's a below-the-radar indie title that's only now starting to make itself known to the larger community.
Wesley Copeland, Editor-in-chief, VideoGamesInteractive:
Our Kickstarter of the week award HAS to go to one of the most genius ideas of 2012: 'Xenocell'

Declan Skews, Staff writer, VideoGamesInteractive:
When talking about smart design choices, @konradkiss and #Bitgap have it down. These guys are so smart! #ReallyImpressed
Please help us spread the word! Check out the campaign page and help us get Xenocell off the ground!
Thanks!
Konrad Kiss, Lead developer @ Bitgap