XenoBloom, the game of life evolved, is now available on steam. It's been quite a journey. I've been getting a lot of press requests, which is nice. Here's a great video from tr1ppa that really shows a lot (but not all!) of what you can do:
What ended up as XenoBloom started out as a random-monster-and-tree generator created for ProcJam 2014, a game jam that focused on procedural content generation. My entry there was kind of silly, but it's actually pretty cool too, since it draws trees and monsters purely from mathematical rules. A sample: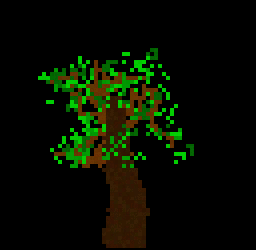 After that, I wanted to create a game about evolving plants. Of course, I had just released Approaching Infinity, so I was really busy keeping up with that. The idea just kind of hung around in my mind for a while.
Then I saw EarthTongue by Eric Hermit, and I said to myself, it's time to do this! I realized that I just didn't have enough time to figure out all the different algorithms to create the variety of plants I wanted. So I got in touch with Grant Garrett, a pixel artist I had worked with in the past. He had also recently done a "growing" game, though less complex.
The real break for me was the addition of cellular automata as the mechanism for "life". I wanted something that the player could see and interact with, but that would have some unexpected results, and require experimentation. I've always been fascinated with that concept, and it just worked for XenoBloom.
I pitched it to Grant as something that we'd get done in one month. That was 9 months ago :) We got the actual game done in about 3 months, which is pretty good. Then the greenlight process lasted 43 days. We hit around 50%, and then we got pushed right through. It was very exciting!
Ok, so where did the other 4 months go? Well, that was me. The non-game-development side of steam was intimidating to me. I had to form a legal entity, get a business bank account, and then incorporate the steam SDK into my game. And I couldn't even see the technical stuff until I dealt with the business stuff. It was all just too much.
So I focused on other things. I spoke at IRDC USA, and preparing for that took a lot of my time (I did *NOT* want to epic fail!) I also had to put out an Approaching Infinity update.
But finally, I couldn't put it off any longer. Steam was my future, and I had to get over my fears. I actually documented the process of forming a legal entity, live on twitter, as I did it. I think the whole process took less than two hours. It took another month of procrastination, and then an hour to get a bank account.
The final kick in the pants was the fact that I was getting a new boss at work, and I thought there was a good chance I could lose my job. So I said to myself, "you need to get this game on steam, just in case you need a little backup income stream." Well, I haven't lost my job yet. Turns out I know the guy... :)
Anyway, today, at 9:09am, 9/23/15, I hit the "release" button for XenoBloom. It is now available for purchase via the highly acclaimed game distribution platform known as steam! It's also got a 10% launch discount, so you can pick it up right now for $4.49
CONFETTI!