X1: Past and Future Mod Beta 2.0
Progress update
For X3: Terran Conflict
Information
Its been a tiring week this week, starting a new job and lots of 48 over cricket during the weekend. But I have done a lot of modeling work to bring the existing models up to the same standard as the mod.
Renders and Descriptions
SSwamp_Trooper wrote:

"With this model I was just experimenting, it is not finished and is not in game. (Back of model)"
SSwamp_Trooper wrote:

"This model I completed a while ago, but was useless in it state as it had no weapons or docks. The model was in game and working with its own cockpit.

This render shows the latest version of the ship, with turrets and docks, however I haven't managed to get the custom turrets to work yet so it didn't make it into the first release. (Front of model)"
SSwamp_Trooper wrote:

"This model was the very first in the mod, however if you played the released mod it doesn't look the same. This is because I have went back to re-edit it to make it more detailed and better textured. (Front of model)"
SSwamp_Trooper wrote:

"This render shows one of the future argon m3 ships, it is a strong ship that can with stand much punishment but only has two gun mounts. This version is included with the first release. (Front of model)"
SSwamp_Trooper wrote:

"One of the first ships made but wasn't included into the first release because of a texture problem. I am currently re-texturing it and adding more detail. (Front of model)"
Progression of the Argon Buster [X4]
In this section I am showing you how the model has progress to one of the better ones I have made in my mod.

I started of with this simple boxy style ship: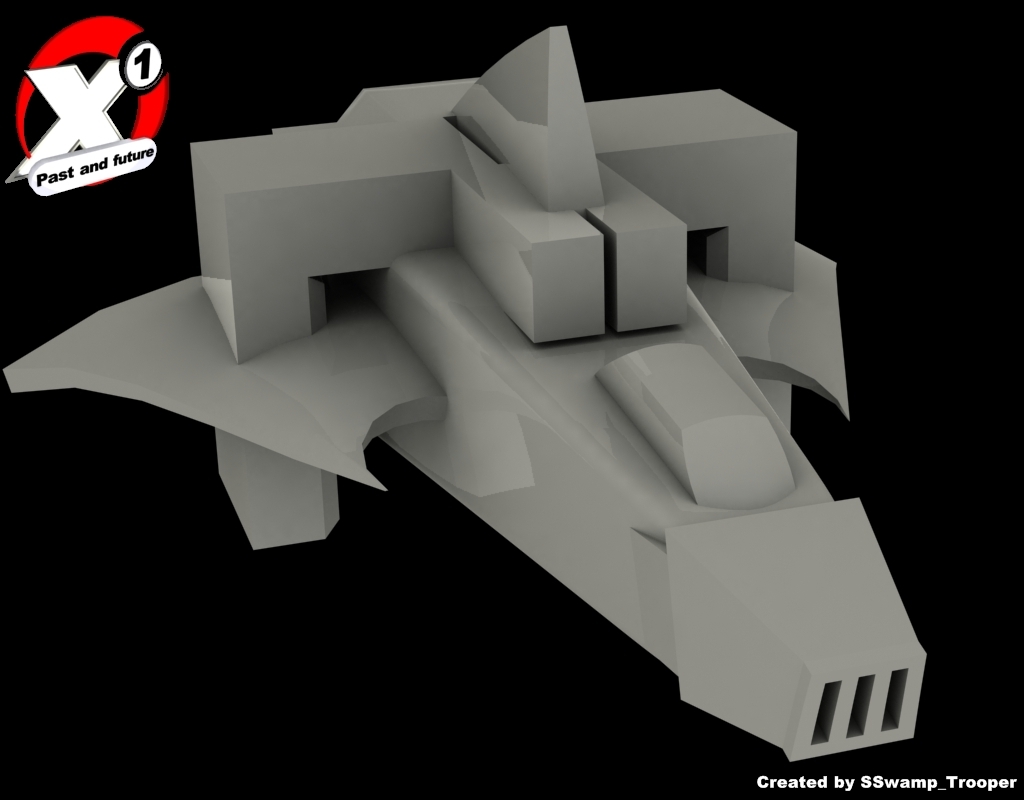 It was ok I guess, but a little basic. So I decided to add some detail by extruding parts until I cam up with this:
Its getting better, I have highlighted details such as the stripes on the nose and did something with the back to make it look slightly better. I then went in game to test, parts of the ship looks good but the ship didn't look like a fighter so I went back into 3ds where I deleted the back and stated again. This time I built a shell around the engines, wings and body. Also this time as I like colour I decided to give it a nice paint job instead of the bland grey which it originally was.
So here is a render of the redesigned ship: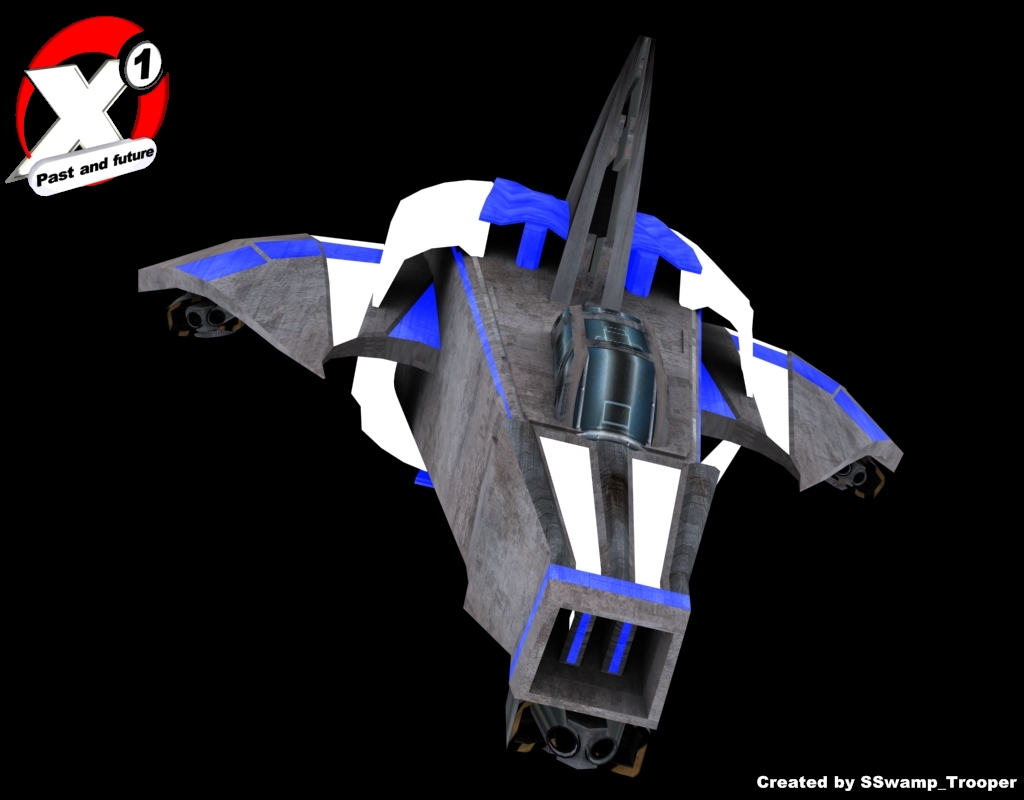 I think that is one of the best textured ships I have done, the only thing which I would of liked to have done better is make the white more white in game as basically I have just changed self-illumination to make the colours instead of making new ones. Anyway it still looks good in game...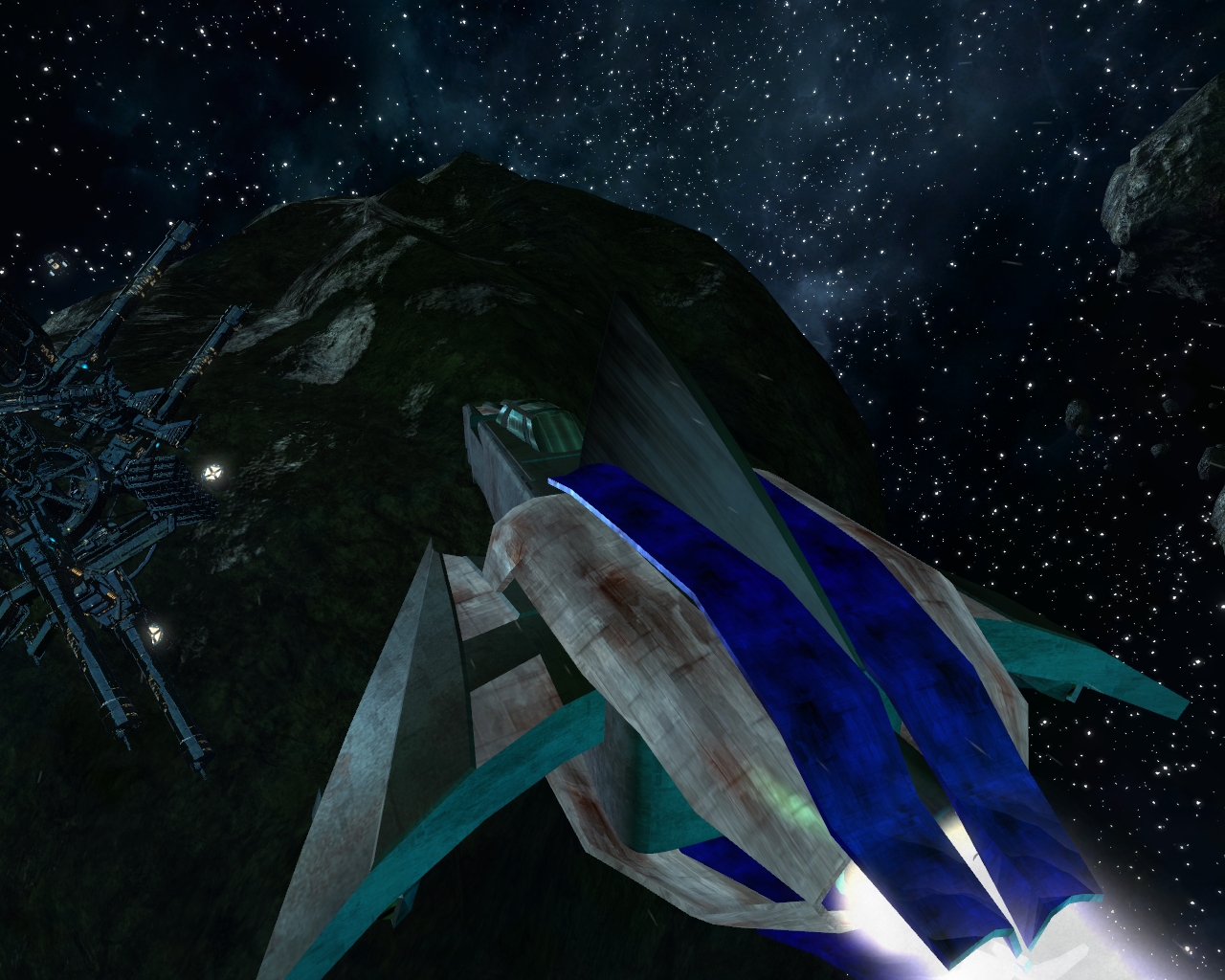 It is a dark sector but I think it still looks good! Thank you for reading, I hope you liked the pictures and please track this mod so you can keep up with all the new updates!