[w]tech goes for DirectX11 and PolyVox!
Many have asked: "Why DirectX10? Why not just 11?"
After I scrapped the DirextX9 engine I thought it would better to go from DirectX9 to 10 and then to 11. It's done: Porting [w]tech to DirectX11 is completed. Now some will ask: I don't have a DirectX11 card! Will [w]tech run on my PC?
Simple answer:
Find it out!
The truth is, that we haven't told you everything. :-). In fact, we ported the engine to DirectX11 before our last techdemo! (Download: Moddb.com)
With a shorter feature-set DirectX11 is also running on DirectX10 hardware. Even DirectX9 hardware is supported, as long as it is running on Windows Vista or Windows 7. But not of us, [w]tech likes to have a DirectX10 graphics card.
Are there new features thereby?
Not yet. None of us has a DirectX11 graphics card. Anyway we can use new features like the ComputeShaderCS4, by what tesselation can be created. But after the Port something else had a higher priority.
But first, what on earth is a "Voxel"??? The word "Voxel" is put together with the two words "Volumetric" and "Pixel". Because nothing else is a Voxel. A Pixel is a Point in a 2-dimensional picture. A Voxel is the same, but in the third dimension.
So, instead of just using a heightmap for the Terrain, we build the Terrain directly into a picture, a 3D-picture. Then this 3D-picture is surrounded with polygons by the PolyVox Library. This method makes many new options possible: You can build caves right into the engine! You don't have to (how many do it) build your cave as mesh in e.g. Blender and then import it as mesh. It's the same with rock peaks or even straight walls. Impossible with a Heightmap.
Besides the possibilities in the editor the gameplay gets an important new element: A fully destructible terrain. Grenade exploding? No black spot on the floor like in many other games, no, it makes a real hole into it!
But what happens exactly with all the "Voxels" and "polygons"? We simplify it and remove one dimension. Here is a 2D-version of a Voxel-volume: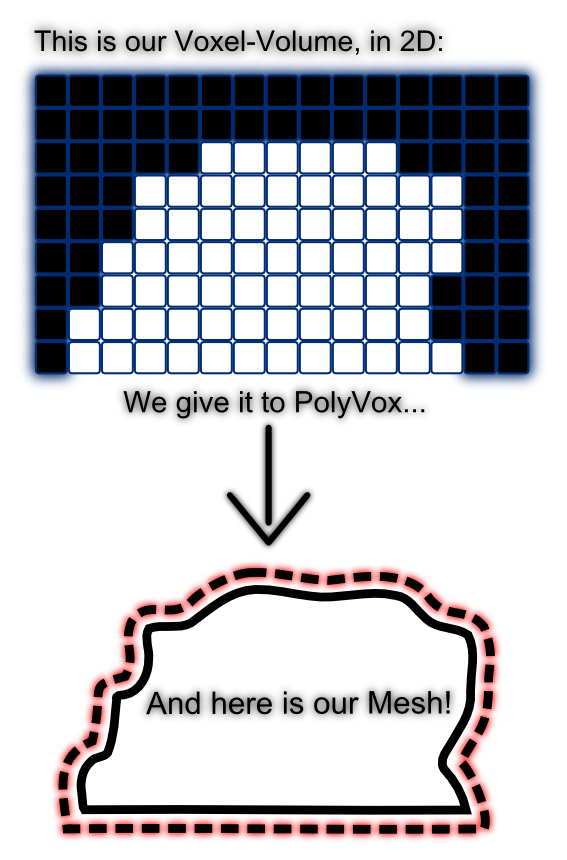 PolyVox will, as you can see, wrap polygons around all Voxels, so we can render it.
In addition it should be said that with [w]tech we don't work with black-and-white "Voxel-pictures" anymore. Since the latest PolyVox-Update we are able to work with smoother Grayscale-volumes. This helps us to smooth the generated meshes quite good.
There is a better explanation (even if more complicated) from the author of the library, David Williams: Thermite3d.org
Don't forget to try his Voxel-Engine, Thermite3D: Thermite3d.org
Here is a video which shows the PolyVox-Feature in action: