Wrongworld is now on Steam Greenlight!
That's right: Wrongworld is now live on Steam Greenlight! Exciting times ahead!
Please take a quick peek and, if you like what you see, give it the thumbs-up and help it get released! It would make that guy on the left very, very happy.
There's also a brand spanking new trailer to go along with it. Brace yourself... things get a little bit frantic...
---
Hang on... What's Wrongworld?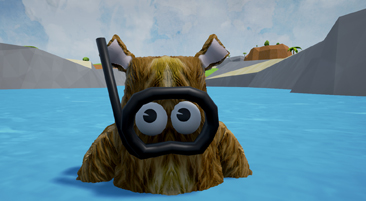 Haven't heard of Wrongworld before? Here's a little primer...
Wrongworld is a surreal survival game set on a low poly world filled with freakish inhabitants. It's the debut game from Sludj Games. Here's a little list of features in easily-digestible nugget form:
Randomly-generated worlds means it's different every time you play.
Use your ninja skills to battle the freakish natives found throughout the world.
Gather resources from across the land and build yourself an epic new home.
Craft tools, structures, weapons, gadgets, magic potions and more.
Learn more at WrongworldGame.com.
Come say "hello"!
As ever, I'd love to hear from you. If you've got any questions or comments about Wrongworld - or anything else for that matter - feel free to come say "hello" at Twitter.com/SludjGames.
Until next time...