Wrongworld Early Access Has Launched
Wrongworld hit early access a few days ago, and I've been absolutely blown away by the response so far. The community has been so supportive and I'm already getting lots of lovely, tasty feedback which I'm working on getting into the game as soon as possible. In fact, the first update is already out!
Just in case you don't know what Wrongworld is all about, have a peek at the launch trailer:
Feed Me Feedback
At the moment, I'm doing my best to gather as much feedback as possible from the community, and I've been learning a huge amount simply from watching all the YouTube videos that have sprung up. If you'd like to give any feedback and help shape the future of the game (that's what early access is all about, after all), please do jump on the Steam forums and let me know your thoughts.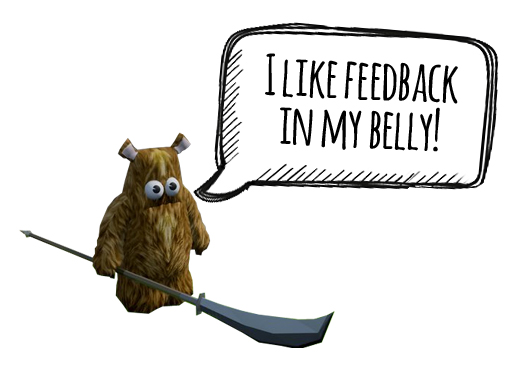 What's Next?
The first update was all about balancing hunger loss, fixing a few bugs, adding some Getting Started Tips, and upgrading the UI. And the next update will be mostly focused on tightening up the combat system based on the feedback I've received so far. I'm going to work on adding an aiming-assist system to help prevent any unnecessary flailing around, and add some kind of visual feedback so you can tell how much damage you're causing to creatures. I'm also looking into narrowing the damage gap between fists and late-game weapons, because I think the general consensus is that creatures take too much of a beating early on, especially considering you can't currently tell how much damage you're causing yet.
With that in mind, time for me to get back to work! Until next time...

For more info on the game, please check out Wrongworld on Steam.