Early Access is almost upon us!
As you may have already gathered from the title of this post, Wrongworld early access hits Steam on the 22nd of August, just a few days away! I'm so excited, I think my head may literally burst! To co-incide with the launch, there's a shiny new trailer:
Hang on, what is this Wrongworld thing?
Not sure what Wrongworld is? Well, let me give you a little overview of the game so you know what to expect.
Wrongworld is a silly yet unforgiving survival game set on a low poly world filled with freakish inhabitants.
You play as a furry little space critter with a bit of a knack for whomping mutants. Crash-landed on a strange and surreal planet, you must decide whether to attempt to rebuild your ship and head home or try to make a new life for yourself. Either way, you'll be exploring, gathering, crafting, discovering, whomping and juggling a powerful need to eat.
For more info, check out the just-launched Wrongworld Steam page.
But what is it like..?
When I began prototyping what would ultimately become Wrongworld, I was deeply in love with a bunch of tough 2D survival games, such as Don't Starve, and so I set out on an adventure to see if I could take what I loved about those games and forge them into some kind of mutant 3D offspring. If you've played that style of game, you probably know what to expect: perma-death, survival, crafting, whomping mutants. But it's what comes next that really excites me... Early access, and the feedback from the community...
Why early access?
I genuinely want the feedback from the community to shape the future of the game. Combat not exciting/challenging enough? Okay, gimme a couple of weeks, I shall fix it. Gathering too tedious? No worries, balancing tweaks incoming. World not big enough? I concur and shall add many new things to justify a larger world post-haste.
Ultimately (and perhaps with a sprinkle of over-simplification), I just want Wrongworld to be fun. Lots and lots of fun. All the fun, in fact. And as a one-man development team who's been working on this game in isolation for a long, long time, I'm probably too close to it now to objectively judge everything. I know the directions in which I want to grow the game over the coming months, but it's the players' feedback that will ultimately dictate it.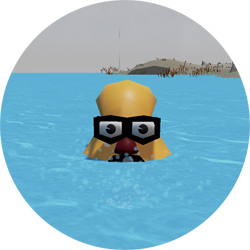 So, there we have it. Launch is now just around the corner, and I don't think I could be more excited. Initially, there'll just be a Windows version, but I'm hopeful Mac and Linux versions will follow closely behind. Those communities have always been very supportive of the game as it went through Greenlight and on-going development, so I really do feel like I owe it to everyone to get those versions out ASAP. If you're part of that community, please rest assured you're one of my top priorities post-launch.
Anyway, I shall shush now and get back to development things. If you've got any questions, feel free to hit me up on Twitter or here or anywhere really. I'm guessing I'll have my hands full for a while, but I really do want feedback and I'll do my absolute best to keep in touch with the community as much as possible.