V 0.0.8.1
New Name!
We came up with a new name (something to do with the plot of the game... ) "Vigilante Rebellion"
What do you think? please comment at the bottom if you like it or if you don't! :D
Summary
This version of the game includes major changes such as a new working inventory, enemies dropping items /money and character customization (for now i just made hats and swords but there are news about items too in the end!) we also added an "on-screen" logger that will tell you what happened recently such as how much money you picked up and how much experience you gained from killing that chicken! :P
Inventory
The inventory will consist of 3 tabs,
Equipment (wear-able)

Use-able items, (potions, boosts, etc)

Enemy droppings (like bird feathers? stuff that isn't quite useful but can be used for quests.)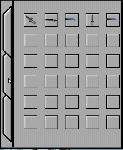 Wear you armor!
You can now wear you equipment after you pick it up from the monsters! right now there is only 2 hats (well head-bands) and 2 swords
At this moment there are no boosts applied according to the items you wear.
Logger
The logger will provide you with fast information on the go, such as how much experience you have gained, how much money this monster dropped, the item id that you picked up, and more!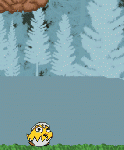 Character Customization
This can be seen in the video (old video, it was a teaser to this upcoming update a while back)
What comes up next?
We are now working on a new version of the world editor, few tools for us *and* for modders (item maker, monster maker, etc) and a whole lot more such as actual character stats! expect a new video next update with our working world editor and a testing run in it!
(It will be posted on our website and youtube as of tomorrow, and here a few days later)
Side-Note
Want a free copy of this game? follow us on twitter and check out our websites and this page often (we recommend you press the "watch" button so you'll get updates as soon as we release them :D.) once we hit version 0.1.0.X ! (It's getting closer!)
Don't miss out on this awesome giveaway!
So if you and/or your friends are interested in obtaining a copy of this game make sure to
check out our website IsolatedPixel.com
and our twitter and facebook: