Hi all, we continue to show you the work accomplished by our modders this year with the WIP#15, published in April.
Copyright Notice
All Vehicle Designs, Object Designs, Product Names, Graphic Logos, Brand Names, References are property of their respective owners and are for identification and non commercial purposes only ; use of these Vehicle Designs, Object Designs, Product Names, Graphic Logos, Brand Names and References does not imply endorsement. We plan to obtain any authorization required before in game implementation.
AMX-10 RCR, by Anastasia
For this WIP, we are pleased to present a much awaited item ! She's done an absolutely amazing job:
GBC 180, by Lobstrex
This next model is progressing fast, and we're hoping to have it textured and in game for next time!
This vehicle is the main transport truck of the French Army, and depending on the map and game mode it will be playable alongside the completed TRM 2000 for logistics and troop transport. Take your time to observe the quality of the details! Cracking work by Lobstrex.
Foreign Legion Kepi, by Vic1500
When he arrived at Tactical Collective, Vic was playing around with props, and his first creation was a nice Foreign Legion Kepi, dedicated to decorating the map with Foreign Legion references: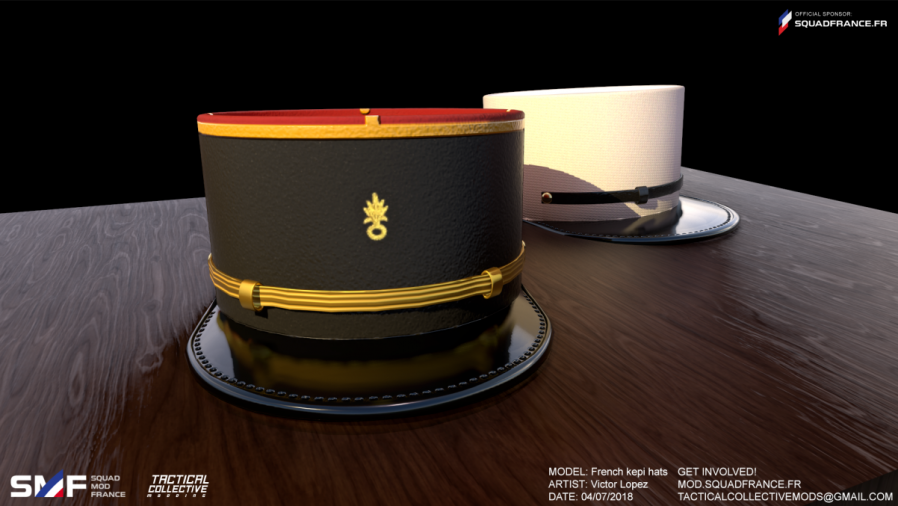 The white one is the famous cap of enlisted legionnaires, well known all over the world. The black one, is for NCO's and Officers. On the front is the 'Grenade', a symbol of the Foreign Legion.
Water Well, by TitooneT92
Don't forget that our map is also in construction, and some props and buildings are especially made for it. Some of them seem to be simple, but they contribute to the immersion and are vital to replicate a true Malian environment.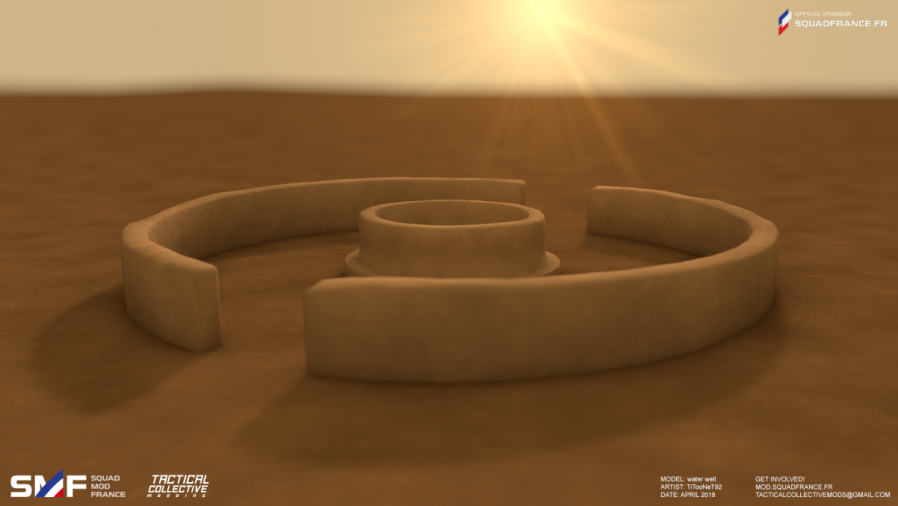 You can find water wells almost everywhere within desert communities. And this is typically the kind of well which stand in Mali.
You will see this piece on the map soon.
V.B.L, by Didish
When Didish joined the Tactical Collective modding team, his first model was already a marvel. Look how his model was already beautiful before texturing. Now Didish is taking care of the French character, and French soldiers will start fighting on Squad's maps soon.
We hope you have enjoyed, we'll be back next time with more goodies!
See you next time!

We interviewed one of our mapper, Legion, who is creating a huge desert map taking place in Mali. You can read this interview at the bottom of the page here: Mod.squadfrance.fr