O
n September 11, 2009, the Utrecht School of Arts held its annual graduation exposition. A day long event where all graduate students exposed their work to a large audience. I'm one of them! The hard work has paid off and I can finally call myself Bachelor of Art and Technology, with Honours.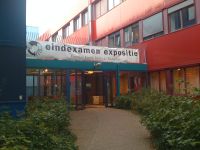 Main entrance of the Exposition.
This is the first time people had the chance to spend some time hands on with Wonderful Life. Besides a test audience used for play-testing purposes (consisting of 15 people of different ages and backgrounds) the game wasn't showcased to an audience before. Now, after having worked on it for quite some months, it was time for this new type of game; an Art game, to be experienced by the public. Since the Mod isn't released online yet (ETA November 2009) it proved to be an exciting day of getting response from a completely unknown and fresh audience.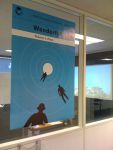 Poster I designed for the Expo, in Penguin Classic style.
I set up a booth with two Dell XPS's running the Mod (not in Editor, but a TC Mod) and hooked up a beamer to one of them to provide a clear image for a bigger group of people. Since I have developed an "Audio Tour" option for the game, in order to provide the player with in-depth information, I had borrowed lots of mp3 players and iPod's in order to let the audience listen to the Audio Commentary while others were playing.
It was a great day full of new faces, overall the visitors responded very positively to the project! As the game is of experimental kind, short, and not in a well known genre (Art Games) it triggered many people to start discussing it and evaluating it. Some called it Art, others an interactive experience and others said it was a step into the direction where video games should be heading.
The feedback I got from players of all ages and backgrounds proved that it was a success, I'm therefore very eager to get the Mod out on the web. Currently I'm laying the last hand on the visual side and fixing some bugs along with my team. We plan on releasing it here on Moddb.com in November of this year.
I would like to thank everyone at the exposition and here online for their sympathetic and amiable words, its an instigator to develop more projects of this kind.
Thomas J. Papa