Last week we showed you Liesel, a popular TV program starring a plucky girl and her loyal fire-spewing Panzerhund. Today we have something a bit different: a TV game show that's part propaganda and part preparation for the Great Changeover Day, when the American Territories officially adopt the German language. Watch an episode of German… or Else! right now to get a feel for life under Nazi tyranny in Wolfenstein II: The New Colossus.
German… or Else!
Already the most popular game show in the American Territories after just one staffel(season), German… or Else! is the fun and informative game show that prepares the American population of the Greater Reich to transition into their glorious German-only speaking future. Learn how to say undefeatable while you laugh at the silly contestants' grammatical errors. Impress your friends at school by flawlessly pronouncing Herrenvolk– a word worth 200 points! The fun never ends in this instant-classic German game show. German… or Else! is filmed on location in the LA Media Tower.
These videos have been produced in partnership with MachineGames and Bethesda Softworks as part of the world-building in Wolfenstein II. Snippets of these videos will appear throughout the game. We'll be releasing full versions of these videos in the next few months to give you a glimpse into the world that BJ Blazkowicz will be saving from Nazi oppression in The New Colossus.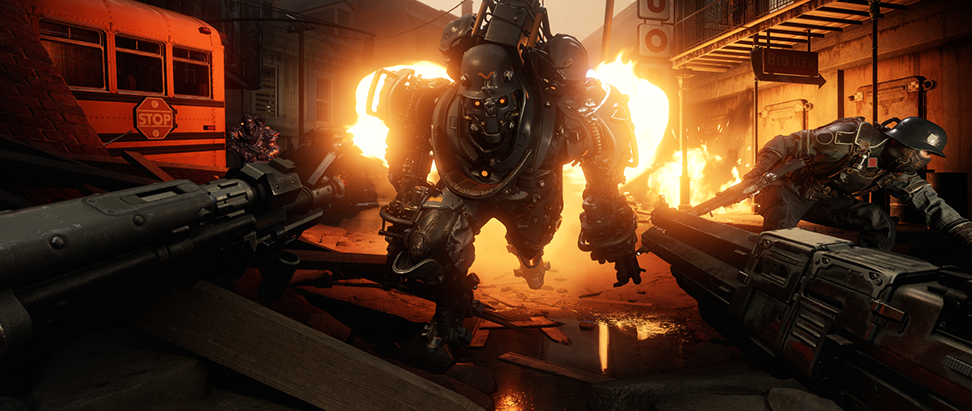 Wolfenstein II: The New Colossus releases on October 27, 2017, on Xbox One, PlayStation 4 and PC. Announced at E3 2017, Wolfenstein II: The New Colossus received four nominations from the official Game Critics Awards (including Best of Show) and won Best Action Game.
For more Wolfenstein II: The New Colossus, check out these videos and features:
Wolfenstein II: The New Colossus – Gunning for Freedom
Wolfenstein II: The New Colossus – America Under Siege
Wolfenstein II: The New Colossus Revealed
Wolfenstein II: The New Colossus Collector's Edition
Source: Bethesda