Soon will be released updated version of Winter Mod 3.0!
Imagine that Vice City is covered with snow. Imagine that а lot of snow fell — a layer of snow covered not only the roads and lawns, but also the roofs of houses, shops... The passers have to dress warmer, cars are sliding on slippery surfaces, the strong wind is blowing, and that's all perfectly suited to upcoming winter holidays in the city.
Winter Mod 3.0 — is a global winter modification which transfigures summer Vice City into a real winter town, like in Christmas stories.
---
What brings Winter Mod 3.0 to our favourite GTA: Vice City?
After the installation all city is covered with snow!
All roads, grass, roofs are covered with fresh white snow, no one detail was missed. Used high resolution and high quality textures in best tradition of another my mod, HRT 1.4.
LOD-textures also have been replaced for better displaying from far distance.
All pedestrians are clothed in warm clothes. Four new skins for Tommy (in cut-scenes he also can be dressed in warm clothes).
Tommy have ability to walk, not only run like he accustomed (poor man!).
Winter weather: long evenings and nights, gloomy sky, snow is falling; you can hear the howling of wind.
New radio-station with songs dedicated for Christmas and New Year (and yet another radio-station you can install from Bonus folder).
Graphic is also heavy enhanced!
New particles, including new sky and new water. New visual effects — bloom, motion blur, colour correction, realtime reflections, anisotropic filtration, vignette, anti-aliasing.
This mod is unique in that sense, that this is the first mod with powerful combination of few graphics libraries which improve graphics.
With exclusive menu you can configure each option of the mod and change different settings and optimise mod for your computer. And all these — not all changes that were made for this mod.
---
The first multi-platform mod for GTA
The first global mod for Android version of GTA: Vice City


Winter Mod 3.0 was released not only for PC (Windows), but also for Android (Android version will be also updated). Is a first multi-platform mod for GTA: it's released not only for PC, but also for Android. This is first global mod (not just mod-pack) for mobile version of Vice City, and first winter mod for this game.
But note that version for Android is an experiment and it is not display all quality from main PC-version, because Android modding still in its infancy.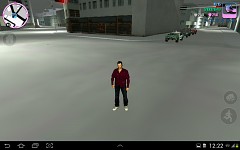 ---
Few words about history of the mod and updated 3.0 version
Few words about history of this modification.
First version of this mod was a first experience for the author in far 2005... Then were few 1.x versions.
In 2009 mod was remade with version 2.0, then were few versions from second generation of the mod and I though that I never back to this mod, but...
In 2013 I decided to make a new version, and I made Winter Mod 3.0, from the scratch, on the new quality standards; a lot of things in this mod made in HRT 1.4 style and approach to quality... and mod was released only in May 2013, this was the most retarded my mod (except HRT). Many technical problems delayed the development, but better late than never.
And now, in December 2014, will be released updated version of this mod.

Wait for the mod in next few days. This is some kind of New Year present for GTA players.