It was a couple of weeks since our last update, but finally Alpha 1.8 has been released today, and it was certainly worth the wait! As the Alpha development keeps continuing, we've focused this update on the strategic game in a big way, and improved a lot of small aspects and issues along with it!
Tactical game - A new Berserker card graphic
Berserkers, a high level Dwarven card have received a much needed makeover, and as ever our artist has done himself proud - check out this gameplay video, which also includes a sneak-peek at the new Dire Boar card image which will be out with the next update!
Strategic game - Opinions and Diplomacy
The strategic game has received a lot of changes, but the key to these is opinions and diplomacy. This will play a big part in the future of the game for determining which hero cards will join your side, and which cards you can purchase...
Diplomacy
A key part to any strategy, you now have the ability to forge alliances with your friends, and go to war with your enemies. The AI (Computer controlled players) takes these decisions seriously, and the race they are playing as determines their view towards you and other players.
Migration
Have a city controlled by a race that's of no use to you? If the opinion of the race which resides in a city towards you is not good, you may well not be able to buy cards. The solution? Evict them and replace them with a race you're on good terms with! Whilst this is a viable solution in some circumstances, this will lower the opinion of the evicted race toward you, possibly making more trouble down the road...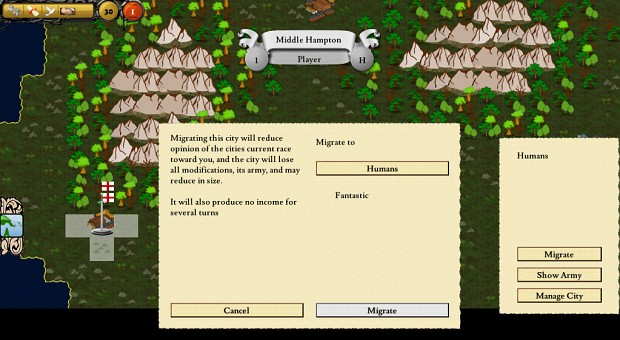 Opinion
Yes, races opinion towards you does matter. Do the Dwarves love me? Are the Humans somewhat displeased with my actions? The opinions held towards you can be quickly looked up from the new opinion window, and you can see when different actions improve your standing or take their toll...There was a lot more to this update, and things keep moving forwards! Undoubtedly we'll have more great news soon!