From the beginning the main focus has been to make the battle aspect of the game the focus for development. Whilst the strategic game will most certainly not feel like an afterthought once complete, the battle side of things is where we can really show off the cards, and the QuickBattle mode allows you to jump straight in without playing a strategic game.
The battle side of things having now progressed so far, I've shifted my development focus to get the strategic game to catch up, with tile modifiers and increasing the available city modifiers in the game, as well as increasing the options available to cities some of the key development targets. The next couple of updates will contain features that specifically improve the strategic game play, and show off some of the features the finished game will have to offer.
Whilst the game is already available for discounted purchase and download in its Alpha version, we'll begin further advertising to bring this game to the worlds attention once we've made some progression with certain graphical aspects - our artist is doing a fantastic job on the card artwork, some of which can already be seen in-game!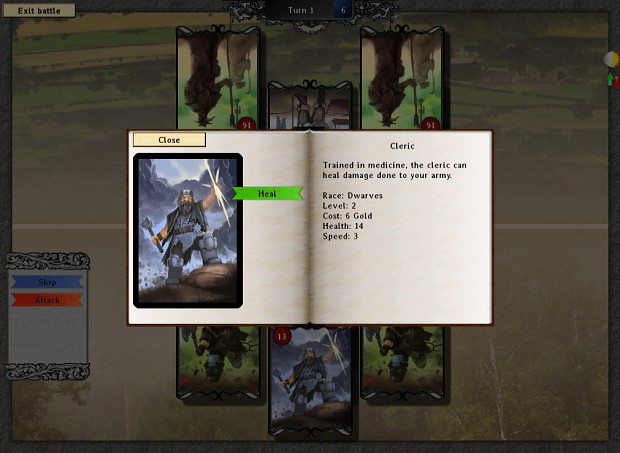 Our newest card image, the Dwarf Cleric, is shown in these battle screen views, and will be available in the next Alpha update (alpha 1.7)!