Pixelry has won the IndieDB Creative award of Editors Choice 2012!! We are so proud!!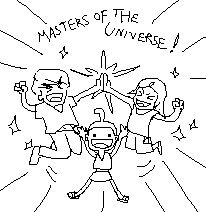 (Disclaimer: The phrase "Masters of the universe" can be considered over reacting.
We hope that the community does not feel offended by its bad use,
since it's only a positive way of expressing joy and happyness ;D )
Pixelry has born along with our little group.
Even knowing that the project has ceased its actual development, as mentioned on our last article, we've learned so much with it and grown bigger in beautifull ways.
We are really proud to be remembered like this!
We never know "when" or "if" the project will come back to life, but we still have hope. Hope is the last thing to loose!
Thank you so much!
-Evelend Team