We are excited to announce Wing Breakers, a fusion of air battle and air racing experiences plus some crazy flying animals.
Watch the Wing Breakers reveal trailer here: Youtu.be
Wing Breakers brings extreme battle air racing mayhem with crazy cows to players.
- Survive chaotic air fights full of missile loaded planes and threatening drones.
- Overcome bizarre challenges from angry animals, swinging blades and fire rings for the win.
- Play solo or team up with other players online and in split-screen mode.
Amid air battles with a lot of attacks and explosions, players will be tested for speed, style and shooting skills. We want to deliver arcade flying experience with tons of silly humor. For players that excel, there will be enough challenges in competitive multiplayer. We cannot wait to share this hectic and fun battle air racing experience with gamers.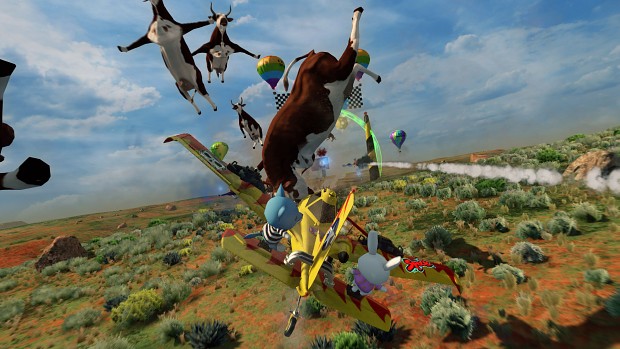 Game will be in beta testing soon.
We are inviting you to join the beta here: Wingbreakers.com

Game will land on Steam shortly after that: Store.steampowered.com
Also here's our new Wing Breakers Discord server: Discord.com