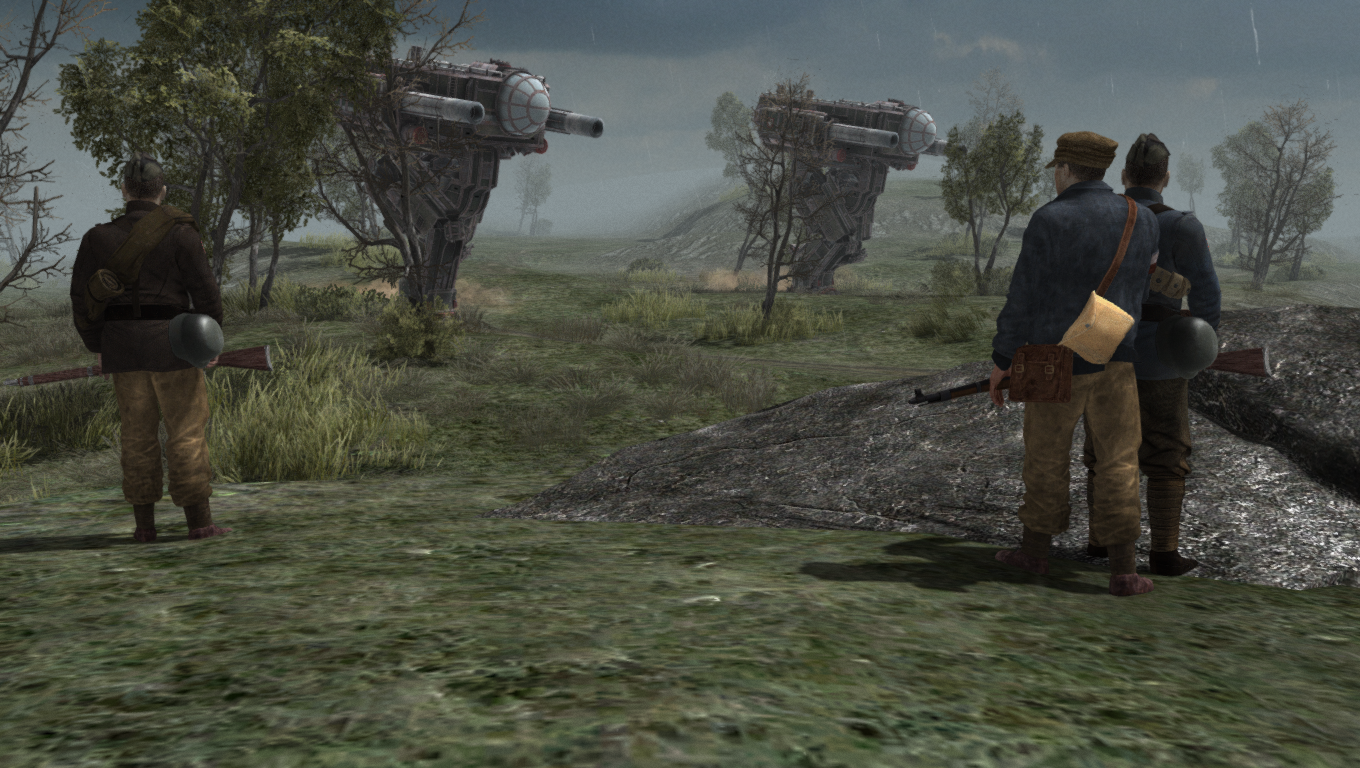 YOU CAN TASTE THE IRON IN THE WINDS ! ! !
First things first. With the release of Call to Arms: Gates of Hell we were provided with the opportunity to create one of the first unique mods for it. Therefore, it was decided to begin development of the mod in Gates of Hell instead of Men of War: Assault Squad 2. While the primary focus will be to complete bringing to life the Iron Harvest universe in Gates of Hell, it may be decided later on down the road to bring the mod to AS2. Only time will tell.
SPEAKING OF MECHS
We'll start with the Polania Republic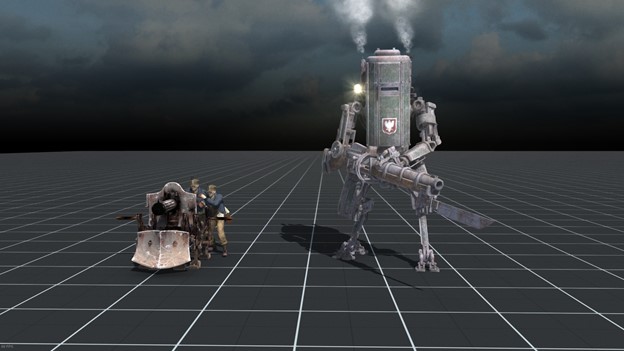 Here we see the Support MG on the left. This heavy MG can currently be crewed by two infantryman. On the right is the Polanian PZM-7 "Smialy". It has a crew of one and has a 57mm gun as its main weapon.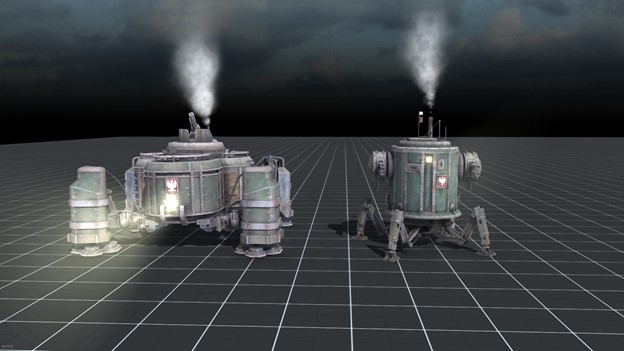 Starting on the left, we have the Polanian PZM-16 "Zolw". Armed with an 82mm mortar, it is capable of providing supporting fire either as a stationary gun position or a mobile one and has a crew of four. But there's more. Each PZM-16 can also carry with it, a squad of six infantryman that provide protection to it should it come under attack by enemy infantry. Now on the right, we have the PZM-9 "Straznik". This is an infantry hunter. It carries a crew of two and is armed with .50 cal heavy machine guns and can decimate enemy squads that are unlucky enough to cross its path.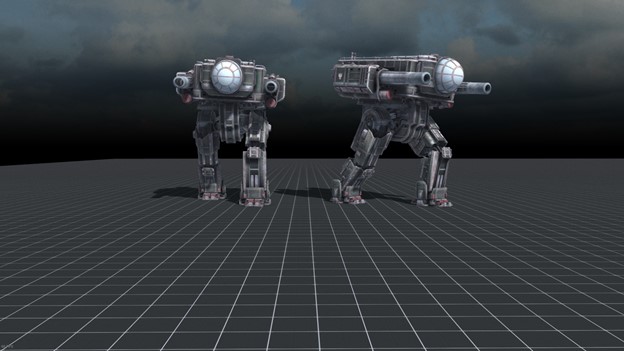 Now we come to a true terror. The PZM-24 "Tur" is the Polania Republic's heavy hitter. It carries a crew of five and can deliver an earth shattering wallop with its 150mm guns. When this mech is deployed, you can rest assure that the Polanian forces will most likely break through enemy lines.
Now we have the Rusviet Tsardom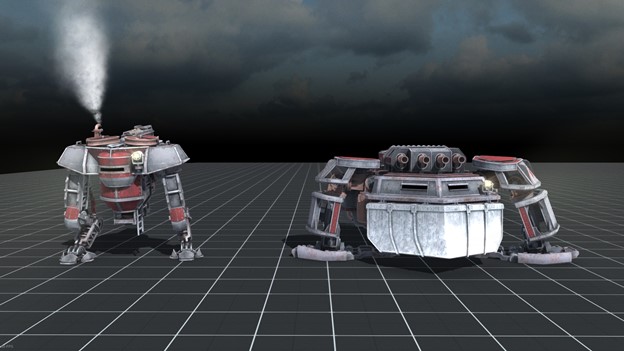 On the left we have the SHM-86 "Kolokol". It can carry a crew of one and is armed with a grenade launching system as its main weapon. One right is the SHM-79 "Nagan". This bruiser carries a crew of four and is armed with 45mm guns.
Then there is the Saxonian Empire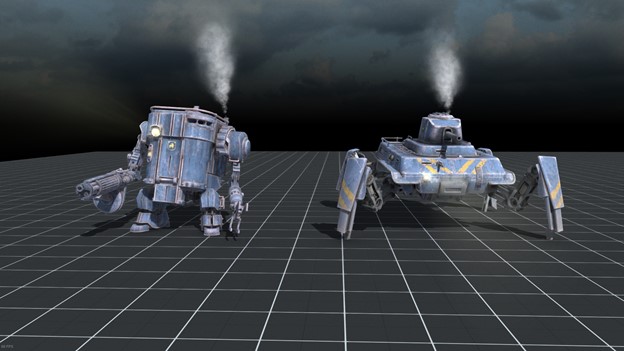 On the left we have the Sd. KS 49 "Grimbart". Like its counter part in Polania, the Grimbart is an infantry hunter armed with a heavy machine gun and carries a crew of two. On the right, we have Sd. KS 78 "Isegrim" with its 20mm auto cannon and a crew of four.
ALL of the mechs listed above and the ones to follow were brought to life one this platform by Guga. Without his talented skills this mod would not have been possible.
While we're on the topic of talented modders. Let's showcase the work of another gifted individual, Chaika. Chaika's talented skills provided Winds of Iron with the skins needed to bring the various factions to life. As we continue to develop the mod, Chaika is continuously thinking about how to add more. This means that many skins that have created will probably be reworked to be more appealing. You can see below an example of a possible rework of the Rusviet skins.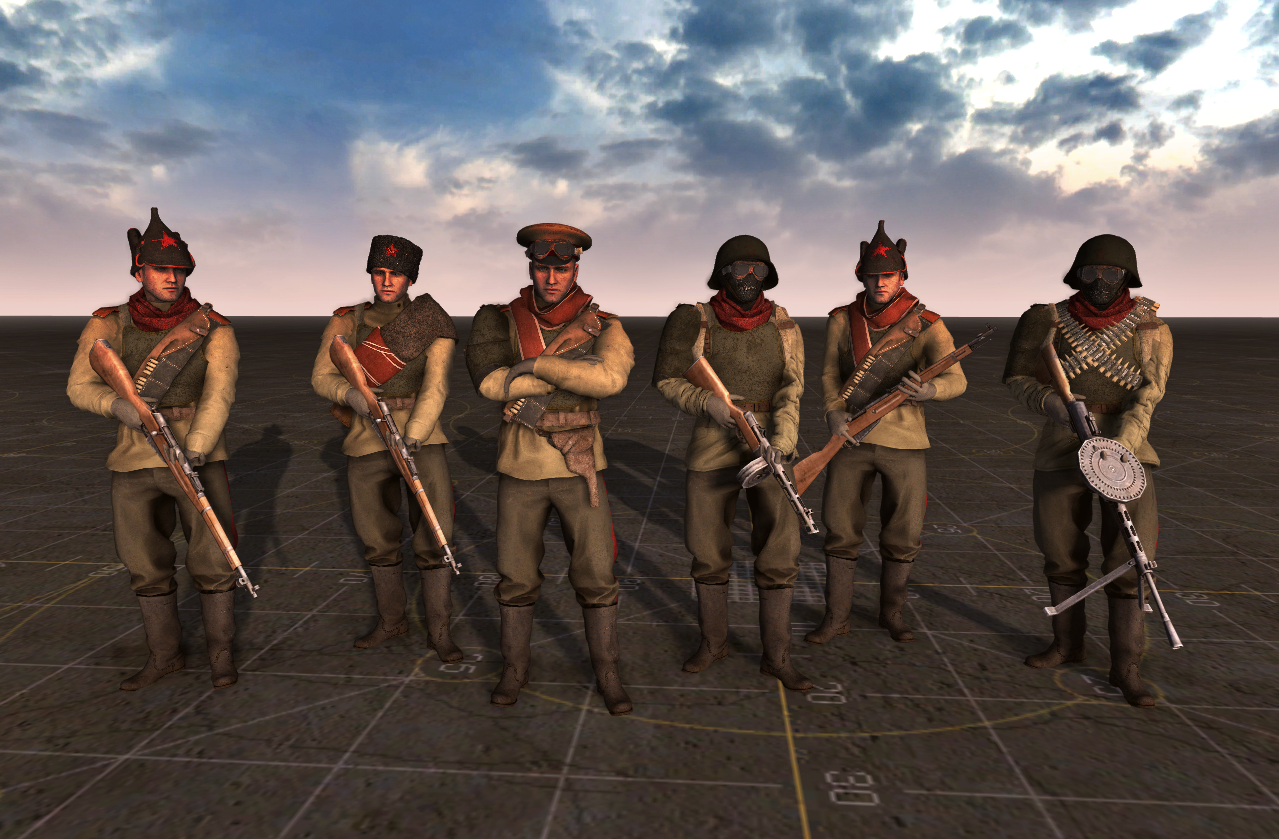 or how about Saxonian Police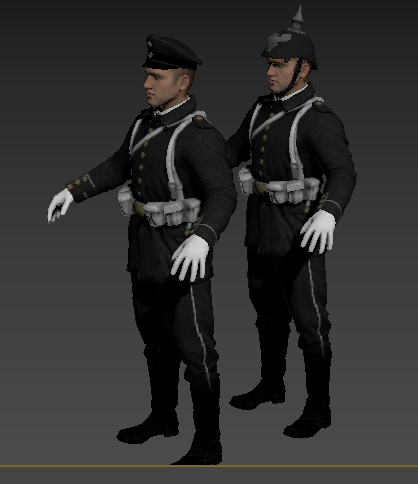 AN UNDERSTANDING
There should be an understanding. This mod is still in early development and many of the things that have been or will be showcased could be subjected to reworking. An example is the mechs. Originally they were formatted as fauna only to be changed to vehicles once the mod was ported into Gates of Hell. So while we will continue to work on the mod, please be understanding that there is still a bunch to do and not everything will be an exact representation of the Iron Harvest universe.


When ships were made of wood, Men were made of steel.
This world is yours.
Sincerely Paga & Miles