For the chance to win a huge bundle of collectible items (see below) valued at over $450 USD, follow these simple steps:
1) Go the the Mage's Initiation Greenlight page and click the "Yes" button to upvote the game.
2) Click the "Favorite" and "Follow" buttons (beneath the screenshots).
3) Leave a comment (This step is necessary so that we can choose winners from the list of usernames assigned to the comments).
And that's it! Three entries will be randomly chosen when Mage's Initiation gets greenlit and this contest will remain open until that time.
Second Prize: Two runners-up will each be gifted one game of their choice (of any value) to their Steam account.
First Prize: One lucky winner will receive all if the items below: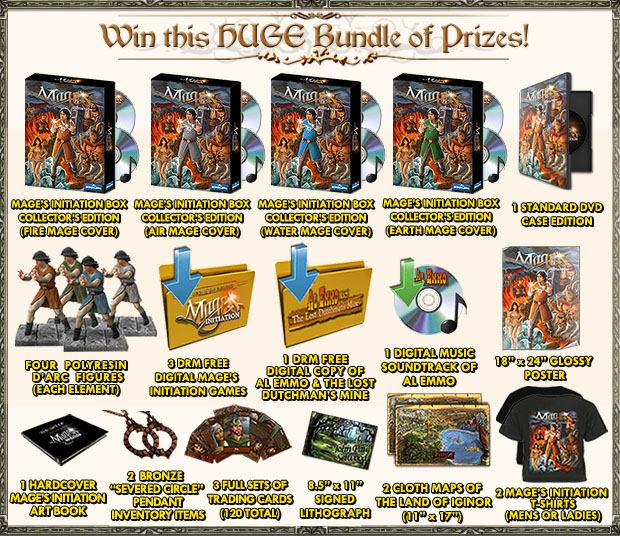 4 Game boxes (Fire, Earth, Air, and Water) containing game and soundtrack CDs
1 Standard DVD Case/copy of the "Mages Initiation" game
4 D'arc Polyresin figures - Fire, Earth, Air, and Water (4" x 3" x 3")
3 Digital Copies of the "Mage's Initiation" game
1 Digital Copy of the "Al Emmo & the Lost Dutchman's Mine" game
1 Digital "Al Emmo & the Lost Dutchman's Mine" soundtrack (53 Tracks)
1 "Mage's Initiation" Poster (18" x 24")
1 "Mage's Initiation" 50-page Hardcover Art book
2 Bronze "Severed Circle" Pendants
3 Complete sets of character trading cards (15 foil packs, 120 cards total)
1 Art Lithograph, Signed by JP Selwood (8.5" x 11")
2 Cloth Maps of the Land of Iginor (11" x 17")
2 T-shirts (Mens or Ladies sizes)