There are still three days left for you to vote for SuperTuxKart as Sourceforge's project of the month. We need your help. Click on the image to be redirecting to the voting site. Thank you!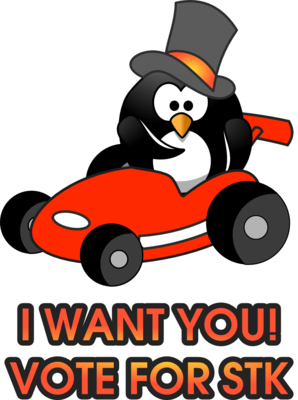 Wiimote Demonstration:
Watch one of developer's little girls play STK with her Mariokart wheel.
Bubblegum:
The Bubble gum powerup currently can be dropped by a player to create a track obstacle. While not finalized, there is an idea to make it more useful by including a second phase to this particular powerup. The first phase occurs when the player activates the gum, it expands into a pink force-field which protects the player from enemy attacks for 15 seconds. If the player is hit by a weapon while the force-field is up, the shield is destroyed, but any players within a certain distance will be hit with bubble gum shrapnel. This will blind the other players for a couple seconds and leave a smear on the ground which if hit, will decrease the a players speed.
The second phase happens if the fifteen seconds pass without the shield being destroyed. It shrinks back down and the player can then drop it on the ground like in the current version of the game.
Konqi's new kart:
Here's what will likely be the final version of Konqi's new kart. It now includes pedals and a steering wheel. It's looking good.