Whinging At Its Best
Now that he's in Canada and living in a hotel while starting his new job, AntiSocialKindaGuy decides to get an apartment in the dark of night, only realizing later he should have waited to see it during light of day. Now he has to embark on filling his tiny rundown expensive apartment with cheaply made swedish furniture. The whinging never stops, but we expected no less.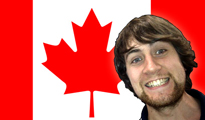 AntiSocialKindaGuy decides to embrace his new country by dining on fine delicacies the country offers, such as milk in a bag and frozen Minute Maid, taking up Curling, getting lost underground, and finally sobering up (the side effect being more whinging) since supermarkets don't sell alcohol. But striving to be a true Canadian now, he is mastering the Canadian way of saying "house" and "about." But how could one forget the celebrating of AntiSocial's birthday? He get's the gift of Canadian summer!
Once he fully settles in, we can get the mod released. You can thank Ubisoft for hiring him so we can get on to releasing this mod!

Tutorial Videos
We'd like to share the first of 5 Tutorial Videos that were made to help new players better understand the game play we have created in V|GO. The first one we are presenting today goes over the final iteration of our money system, and you will notice how it is even a bit different than the system currently in the release of Pegasus v1.4. This Tutorial covers all major aspects on how to obtain money in our mod; gone now are the supply depots that require supply carriers and micro management.

Forums www.screamingcricket.com/forum
Website www.vgomod.co.nr
ModDB Moddb.com
IRC Screamingcricket.com