Introduction
The Raven has long been a staple of the EVE Universe. Loved by mission runners and (to a lesser extent) pvpers alike, this ship has proven itself many times over. However, it has some downsides that may render it up to useless or simply impractical in certain situations.
This article will explore the strengths and weaknesses of the Raven today and whether or not certain ships may be more useful.
Raven Strengths
The Raven has several endearing traits that should be considered.
Ability to be fit to tank a DDD (meaning over 75k EHP).
Highest DPS of any Caldari battleship.
No effective range issues except with torpedoes.
75m3 drone bay, significant for a Caldari ship.
Cheap, for a non-rigged t1 fit you only lose 17m after insurance.
Raven Weaknesses
The Raven has several drawbacks that also should be considered.
Slow, even for a battleship.
Less DPS than most other battleships.
High align time.
Must be active tanked, potentially limited capacitor.*
Vulnerable to capacitor based electronic warfare.
Scenario 1: L4 Mission
The level 4 mission is how many people make their ISK. A typical level 4 nets the mission runner about 20 mill if you loot and salvage. Some level 4s may be worth up to 50 mill. These missions are the gold standard in isk/hour (level 5 payouts are mainly LP and have highest LP/hour rate) and finance projects from an interceptor to a carrier.
The raven has absolutely no issues whatsoever in a level 4. It slices through it like butter. However, this is not a unique ability: all battleships can solo any level 4. In addition, most battlecruisers can do this as well. The drake for instance can do any level 4 a Raven can and, in some cases, can outperform a Raven!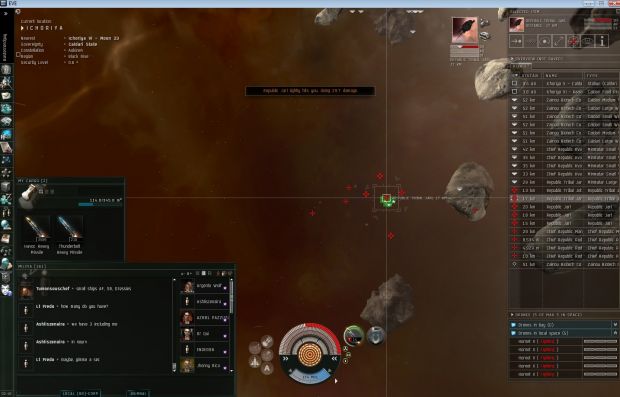 In the above image you see a very difficult level 4 storyline mission called the Inorium Hijacking. You have to fight off 15 top of the line Minmattar battleships and salvage (yes a mission requiring a salvager. CCP has its fingers in your skills after all) a container to get Inorium.
Although the shields appear low, this drake is doing perfectly. Using EVE-Survival (which most Raven-flying missioners use anyway) you can solo this mission in a drake with maybe one warp out. Price tag wise, a fully tricked out PVE drake costs the same as a Raven (unfitted and unrigged).
Another advantage befalls the drake: passive tanking. Many missions involve capacitor warfare and in the Raven it can break your tank (which is why CCP added it in the first place!). Even a permaboost setup often can be broken this way since the capacitor can fall below the recharge threshold required to permarun the tank.**
The only thing the raven has going for it in the level 4 is higher DPS. It is able to kill a battleship faster than a drake could. However, the trade offs can outweigh this quickly. Many people have even begun to see the light and switched to mission drakes for their level 4s.
Scenario 2: The Fleet Op
In a fleet, ships are typically chosen for a specific attribute (the exception of course are 'grab bag' FCs that do not have a fleet plan but simply are glad someone has a ship) such as speed. The Raven is good for scenerios where you will...
Be sitting still such as a gate camp, or moving slowly in a large roaming gang (like the ones that go 40 jumps to enemy space in 0.0 to kill a carrier).
Attacking capital ships and starbases.
Bait (drakes are far too obvious bait ships).
Battleship gangs that are going head on with other battleship gangs.
If these criteria are met, the Raven will do fine. In PVP, it will not have an active tank (more likely to be a buffer tank) and is thus not affected by capacitor warfare (to a great extent). In addition, the Raven can be made DDD proof (I have never seen a drake fit that can do that) which means it can contribute to taking down a titan.
Scenario 3: The Solo PVPer
Typically, solo pvp and Caldari do not mix well. This is because of the usage of mid slots for tank. This means that adding a warp disruptor (vital to solo pvp) and webifier (also important) will severely compromise the tank.
The Raven is no exception. Without a gang it will perish quickly and expensively. The only viable solo pvp ships for the Caldari are the crow and the Rohk. Rokh is viable because it can fit a lot of blasters and still get bonuses, and crow because it does not tank it hunts things cruiser and down and survives from speed.
*Yes, permatank fits are doable. However they typically require high skills or a capacitor booster.
**The best part is permaboost ravens typically have a weaker tank than ones that are not cap stable. This is due to the slot changes to accommodate for the permaboosting support modules.