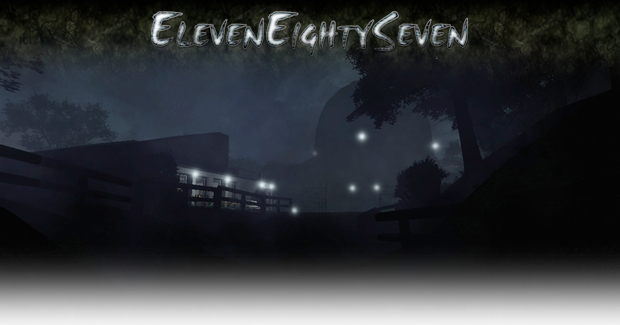 Sunday 17 October 2010.
Well, it's time to finally give you guys a release date, and it's this Sunday.
I could've spend an eternity refining the mod. Instead of doing that I'll take it as it is, and will use the gained experience from 1187 - Episode One to Episode Two.
I've spend three years working on this thing, and I'll admit there are some things I would've done differently if I started the mod now. But that was my goal in the first place, to learn. I've overhauled even the first maps, scenes, textures and what have you countless times over, but it really is time to say we're done. I do believe that myself and the team have created something we can be very proud of. And I hope that you guys will appreciate the effort put into this and have one heck of a good time when you start it up.
The only thing that we won't be releasing just yet is the audio commentary. We're not done recording it, but it will be released separately once we're finished.
The mod stands around 5 hours long, depending on how fast you play through it. Those who will rush through the game will miss quite a lot of stuff, since we have quite a number of secrets and optional content being offered throughout the mod.
Those who take their time and explore the maps will be rewarded by doing so. Also worth mentioning are two facts:
1: The mod is tougher then Half-Life 2. I've played it on medium throughout it's development and I recommend others to play on that difficulty as well.
2: The mod is big. seriously, it's around 2.80 gigabytes once you installed it. I've done my best to keep the file size in check, but once you create and use this much custom content, then it's inevitable that it gets to this size. Not only did we create tons of custom content, I also asked permission and even been offered to use content from other developers, so A huge thank you to them, and you'll find them in the credits list.
Also, Note that the mod will run slower on older PC's the lowest I can confirm is a single 2.4 processor with 512mb RAM and a Geforce 7200, but that's really stretching it and you'll have to compromise certain features like HDR, and other video/sound features. I did my best in optimizing the heck out of the maps, but man, optimizing takes tons of time and it's a tough process, so I apologize if it's not the best.
Then there's other news :
We have a website. It's not the best, and there's not all that much on it, yet, but it's there. I hope to see you guys on the forums there because I and most of the team will be on there after the release hits. If you have any questions or want to start a discussion, feel free to head over to the forums and ask / chat away ;)
Wix.com
I also would like to point out that I've spent some time in creating a game manual. It will cover pretty much anything important from the hud display to the button layout and even character info. It really helps giving it a read, and a long with that, playing the crash course. The crash course is our version of Half Life 1's Hazard Course. I loved the Hazard Course and I felt it'd be neat to have it return for this mod.
Other then all what I said there's not much else to mention at this point. The mod's been play tested as much we could with quite a big beta test team, and I think we really got anything that might break the mod. Its been one heck of a ride but it's been fun. So yeah, Thanks to everyone involved with this project. The team members, the testers, even people that wanted to help but couldn't, and of course the community here on ModDB.
Ohh yeah, for those who might not have noticed, this is an HL2 Episode 2 modification.
I'll leave you guys with the official trailer, it's pretty much the same as the one I had in the header, only it's been tweaked a bit, and has one new shot.
So yeah, get ready for Episode One, it's on it's way ...
To make it clear, however : I'm aiming for 17 October 2010. There's no reason to not make this date, but if something does come up and I have to delay because there's something in need of fixing, please be warned. I rather have it fixed before rather then after release. Even though the mod's been tested enough for it not to break, at least not for us, but you never know what some people out there might accomplish.