About the alpha demo
I think it's more important to show gameplay rather than gorgeous pictures/concept arts when the game's development is at an early stage. That's why i decided to upload a playable demo even if i knew everything in it was quite rough.
It's a dangerous thing to do, because people can judge it like it's a real demo from the full game.
But at the end, it was a good thing!
Thanks to your feedbacks, I clearly know what I have to improve (especially controls). It gives some visibility to the game (like on IndieStatik, IndieGames, Rock,Paper,Shotgun, GameSphere, IndieMag) and I've been contacted by some distribution platforms.
This crash test demo was only tested by me before being uploaded, and that explains a lot about clunky controls and hardcore level design :D
So, for people who didn't go through the entire demo or people who don't have time to try it, here is a walkthrough :
If you haven't try the demo, you can download the demo here.
What's next ?
I've started to tweak controls/difficulty, here is a small glitchy gif to show :
- Fast respawn when you die (checkpoints)
- Go down on a ledge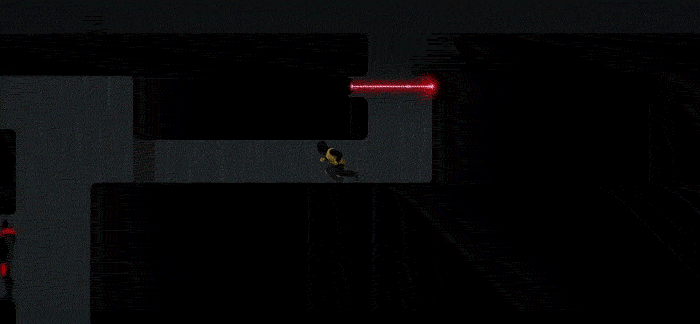 That's a beginning, But there's a lot more to do on controls.
From now, I start to work on the full game (storyline, first levels,etc...) and it's gonna be a huge work!
And work is time, and time is money, and money is work, and... it's a vicious circle.
At this time, I live on some freelance contracts in graphic design, but in order to take the time to build an alpha demo, i had to refuse some contracts. And I have to admit, doing this for a full game will be a challenge! Switching between contracts and game dev will increase a lot the development time, and i don't want to take 2 or 5 years to make the game.
That's why i plan to do a crowdfunding campaign in order to let me work full time on the game.
So depending on the success of this future crowdfunding campaign, release date of the game could be somewhere in 2014... and if it fails, maybe the game will be shorter... i don't know.
I will let you know when the crowdfunding campaign starts (preparing a crowdfunding campaign takes also a lot of time and even more with my poor english skills :D)
Have a nice day !
Thanks for reading