Infantry
Composite armour skins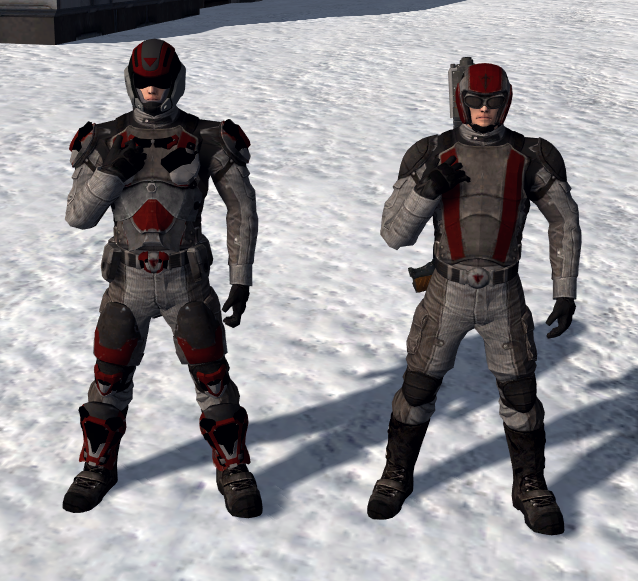 One of the big focuses of this update (or at least a feature that took the damn longest) is the new composite armour skins. They aren't perfect ports from the game as each class in that gets their own composite armour but in this mod, most of the regular infantry share the same skins from each factions so I've mashed various pieces from each class composite set to make up for that.
Elite squads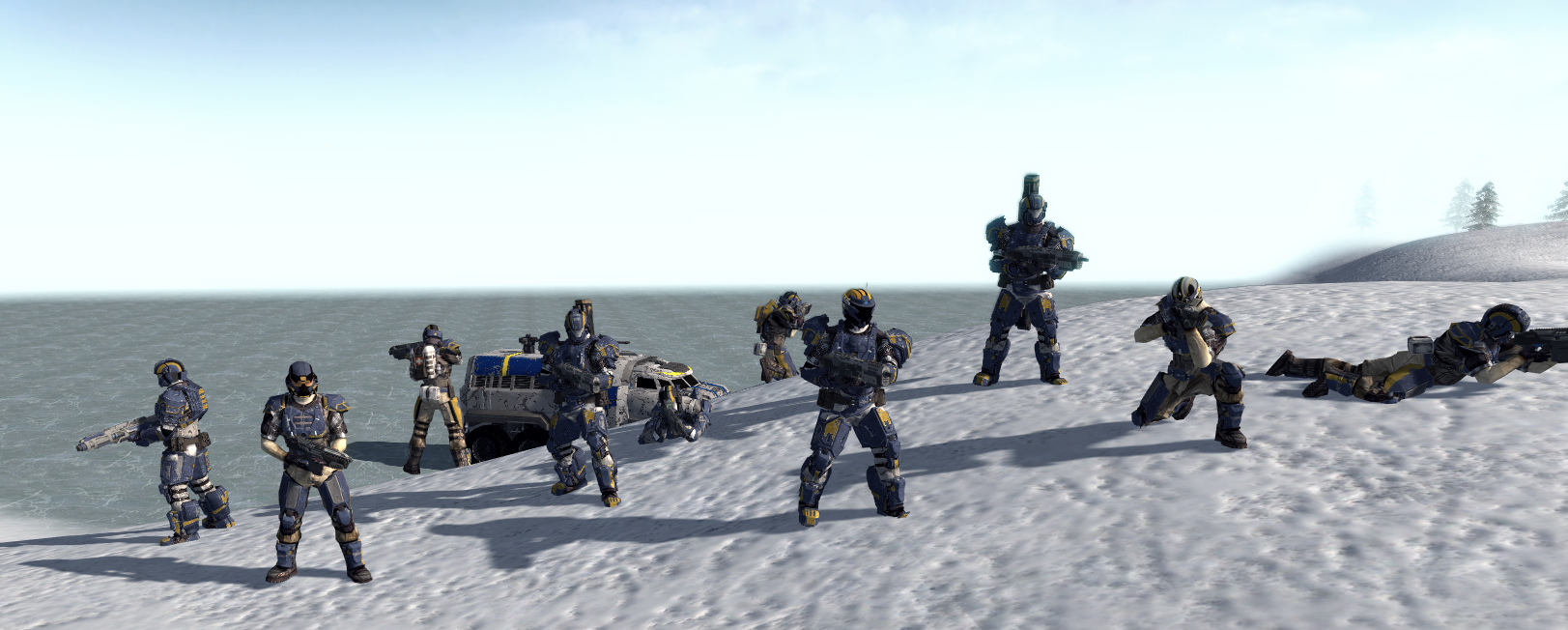 To coincide with the new skins, each factions is getting elite squads in their spawn folder: Havoc (TR) Sigma (NC) and Darkstar (VS). Each of these squads have classes using the new skins as well as their own helmets. The elite squads have higher health pools, some new weapons and better skill levels with said weapons which should overall make them deadlier soldiers. They obviously can't 1 v 10 squad of enemies (at least when controlled by the ai) but they can definitely hold their own better.
Weapons
Each factions has gotten a few new weapons that spawn with the elite squads including: SMG's, Carbines, LMG's and shotguns. The new weapons have all been scaled by a smaller multiplier, so they shouldn't look ridiculously huge. Additionally, some of the already implemented weapons have been downsized as well.
Voices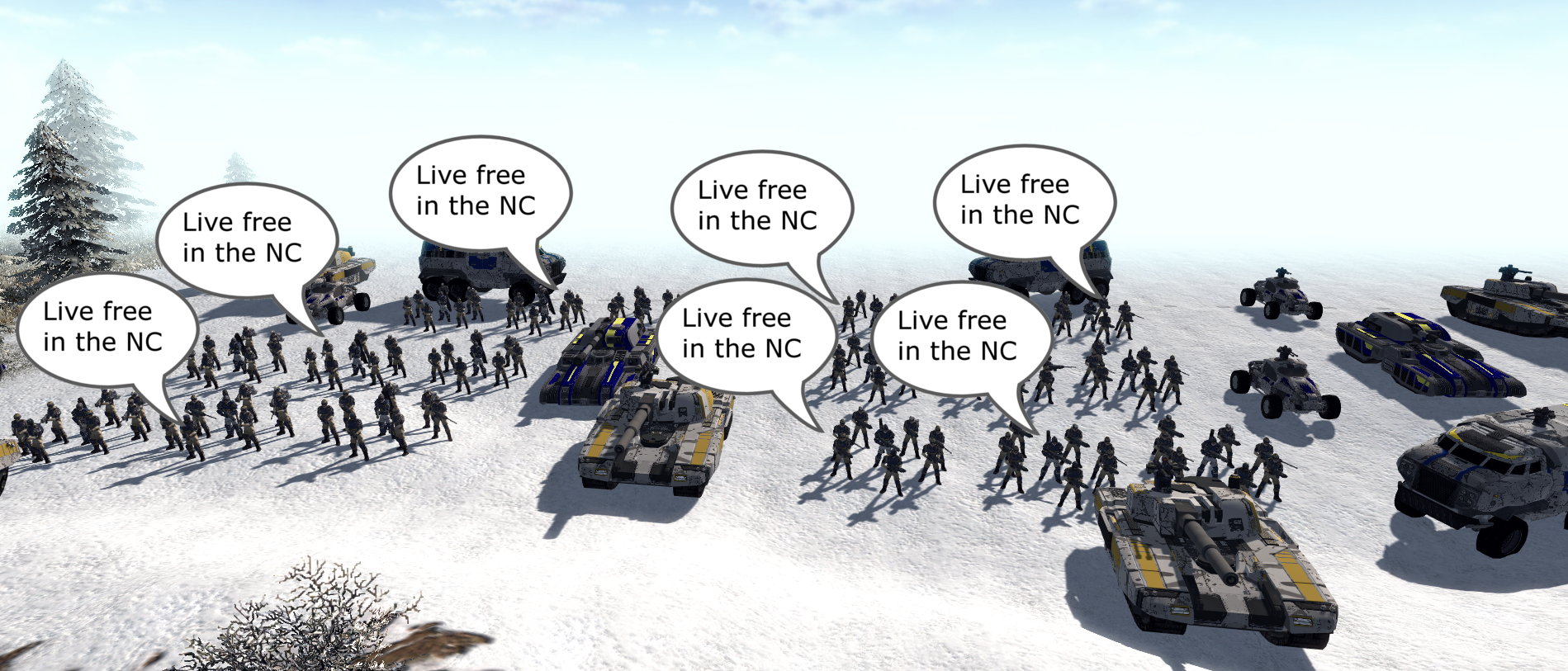 Both the NC and VS have got voices now, rather than using vanilla game voices. Whilst there isn't anywhere near as many voice lines as the vanilla game sets have it's still good to finally use the correct lines. Later down the line I can also get sets from other voices (each factions in PS2 has multiple voices you can give your character) so that I can add even more variety. Similarly, now that I have the voices nailed down, I'm well on the way to being able to add female soldiers at some point.
As a note, due to there not being many lines for in-combat dialogue, you'll likely hear the same thing being said quite frequently, but if you've never played Planetside 2 before let this be an introduction to what would await you.
---
Construction
Buildings

Similar to last time, I've got two new buildings for the next update. However, these two are taking a different route. Unlike all the previous buildings that have had two versions, one as just a prop and one with a proper interior, these two will be a mix of the two. It has the interior all mapped out for custom rooms but still has the roof, so it can be set to have the roof disappear when a unit goes inside. This can be done using the "edifice" tab. Here is a useful explanation as to how to use it properly when making a map: Steamcommunity.com
In order to make the building into more of a prop, you'll need to disable the "land_patch" in it's editor column, then block the doors up with the new props coming with the update.
Whilst this system may not be as convenient for people who don't know how to place them properly, the trade-off is that it makes adding these buildings much easier for me, so I can spend more time working on other features.
Props
As of posting this I'm just about to start work on the new props so there are no screenshots just now. The new props will mainly be under the "mining" tab of bases, so will be structural and environmental pieces found around the mining bases covering Auraxis.
There's also going to be some of the new player base construction pieces that have been added to Planetside 2 recently, so look forward to them.
---
So for now this is all I have planned for the next update. There are no real revolutionary new things coming from the players point of view but I've gotten the hang of a bunch of new methods that should help me with development further down the line.
Plus, I've already got some plans for the next update after this of things I want to work on.