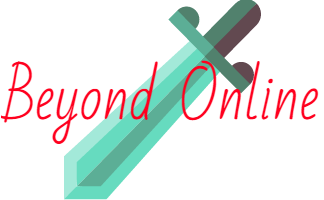 2.0

What to Expect?
Well, the new and improved version of the game is gonna to be a lot smoother and a lot easier to play with.
So what will be in the new game? Let's get into it!

FPS Cap:
In the Legacy version of Beyond Online. FPS capped at 32fps ~ This was to make sure weather and animations were running correctly. However this did cause problems and made the game feel "chunky" and buggy. However the cap has been raised from 32 to 120fps. However it could go higher than this. Animations and weather particles run correctly and do not bug out.

GUI:
The GUI has had an addition! On the top left corner of your screen you will see your stats (HP,MP,EXP) and with that will be a stock image of your character and the map location. Map locations have definitions..Red = PvP Area ~ Not SafeGreen = Safe Area ~ SafeYellow = Indoors ~ Safe
Other than that the GUI is just beautiful now! Hopefully everyone else feels the same! (Thanks Damian)

Combat:
The combat system has changed compared to the old version of the game. Projectile weapons (Staffs/Bows) now require "Ammo". This ammo varies on the item you are using, for example if you're using a Magic Bow, you can only use Magic Arrows, So if you was using a Staff of Wind, then you can only use Wind Aura's. Make sense? I hope it does

Statistics:
So, this was heavily requested.
We finally have a Skill system that will allow players to level up other skills apart from their actual player level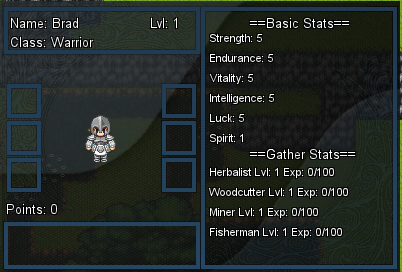 As you can see;
~ Herbalist ~
~ Woodcutter ~
~ Miner ~
~ Fisherman ~

A even better feature is that some resources cannot be interacted with if you do not have a specific skill level, which makes grinding skills an important part of the game!

Crafting:
Beyond Online is introducing Crafting 1.0...The crafting system will allow players to create their own items instead of visiting a store. Some items will need to be crafting by hand. Cooking and Alchemy will be done the same way ~ Via crafting.
Some armours MUST be crafted in order to obtain, same goes for weapons also!

Options:
Okay, so I was asked SEVERAL times to add an option in so players could play at a bigger resolution.. this has been done! However this has not been perfected, the current sizes are;800x600 (Legacy Beyond Size)1024x7681152x864
This is as big as I could get without screwing up the game tiles. If I figure a way to set this to fullscreen then I will!

BindKeys:
Okay, so only a few bind keys were added;
I = Inventory
Q = Quest Log
C = Character/Stats
O = Options
K = Spells

Misc:
Overall Performance Increased = ("More up to date code language")
ESC Key Removed! = ("This was one of the most annoying things in the legacy game")
Editor! = ("Brand New Editor for Staff to work on")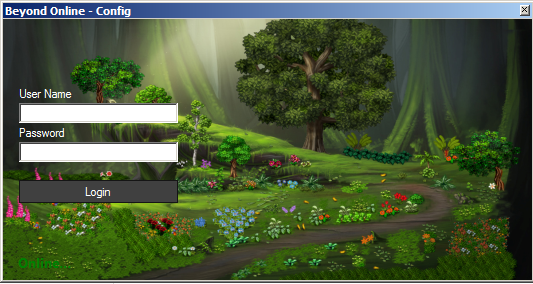 Also I plan on having a fully functional mount/guild system too! Stay tuned!
Best Regards, Bradley
Founder and Developer of Beyond Online
Register at our website today!