Hi all,
To begin with; you all should now that I'm just a student that has few months 3D game development experience. Since I'm studying Computer Science, I'm more than being familiar with coding and I have some 2D games coded. Nevertheless, we all know the word gaming stands for something bigger and wider.
I've never had an experience with a game engine apart from those I wrote for 2D games. I tried to work with HPL1 for a while, but you know, it is impossible to do something with it. Now that HPL2 goes to tens of mods, I saw the possibility to work with it.
I'm writing scenarios where I work now*. Nowadays, mainstream seems to be uninterested on beautifully crafted stories. Never try to understand how it takes its spin. This is kinda sad, especially when companies tend to make empty action games. It's where this mod comes into scene: Without mind-blowing gameplay and stunning level designs (which I'm not that talented), can a story immerse the player? Beyond that, those who still want good stories in games, will they be immersed by this kind of story-telling.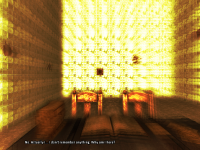 As I mentioned before, I have no experience on designing levels and creating gameplay. So for this mod, I really try hard to make it to look good and entertaining. Trying to be unique is the hardest part of it. As for the scenario, I needed three voice actors for this mod. I've never searched for voice actors, so finding one was really troublesome for me. I first googled it, then asked it on yahoo answers, then registered on couple of voice acting sites (which were not free, but had no idea at that moment). Finally I searched ModDB forums and saw a voice acting forum, where there are people willing to give their voice to others' projects to gain experience, credits or such.
White Night has three characters: David, Dr. Sofia and Grace (David's wife). I kindly asked a person who is also a member on the Frictional Games' forums and makes video reviews on youtube for David's voice and what a luck, he accepted! That was first big step of the mod that motivated me to go on. However, harder part was to find a female to give voice. I started a thread on that voice acting forum**, and first response I got was to inform me about posting rules and a warning that I started the thread in wrong category! Then sun showed its face, one person wanted to voice Dr. Sofia. I was surprised; and then everything went down: I was in need of one more person to voice Grace (because she is a must in the story) and my thread already fell on third page. Wow, fan-dubbing of various animes is quite popular that people barely condescend to video games. Nevertheless, I was lucky once and now this project has its person to voice Grace too!
I must say that every single person that gives their voice to this project are very talented. I mean, you can easily make a movie with their voices (btw, my voice is croaky, and my girlfriend doesn't have a foreign accent as we both are Turkish). You will see them in credits and mod summary once it is finished.
Well, to back on the mod itself, my story evolves around David, who wakes up from a nightmare and find himself in a strange place, being in a half-amnesiac state. Sounds cliché, eh? But soon he finds himself talking to a doctor, who names herself as Sofia and asks some questions. David is puzzled and wants to know where Grace is. He doesn't have to wait a lot to find out. Only to learn what exactly happened and why he is walking in an unknown place.
Story will be told by only dialogs of David - Dr. Sofia and David - Grace; and various notes. That's the point of the mod. I want to see if only dialogs and notes will be able to tell the story, and more of it, immerse the player! I'm working on beautifully designed (!) levels and some little good scares too, but they are not my top priority at the moment.
I'm now working to finish full plot script, dialogs and notes. Once finished, I'll send them to the voice actors to voice their characters, then all falls on me, to create and polish the chapters.
Hope this turns out to be good, entertaining and immersing.
Until next update, take care!
- Tansel
*a small game development company
**voiceactingalliance.com