Greetings fellow devs, modders, and gamers alike!
So you've stumbled into my early development blog for Helicopteropolis, eh? With the internet full of limitless genius for you to enjoy, I appreciate this moment of your web-surfing time. I'll try to make it worth your while :)
Helicopteropolis is a marketing-unfriendly name for a style of game that nobody has asked for (besides my 3 year old son). My friends struggle to spell it, it sounds dumb when you say it out loud, and the T isn't centered (thus the propeller in the logo is slightly off-kilter). Sure there were kerning options, but I really wanted the propeller to be centered. Friggin' T.
But, behind that name that I hate yet love, a good game design DOES exist.
Picture this....
There's this GUY...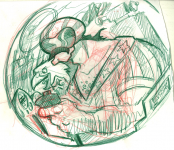 He flies a helicopter, much in the way a chopper was flown in the classic Choplifter. You're picking up people, much like you did in Choplifter. BUT, instead of POWs that need to get to base-camp, these are common citizens looking for pizza. Or the beach. Or trying to get somewhere in a sprawling cityscape, ala Crazy Taxi.
You only have so much time (or gas or whatever you want to call that limiter) that is constantly dropping but goes up with successful drops.
Oh, and Combos?! We got em! Drop off multiple passengers with the same destination for cash multipliers. If one person gets annoyed and bails, however, they take everyone with their same destination, so don't get greedy.
When a run is completed, you can visit the Upgrade Shop, where new Helicopters, items, and starting garages can be purchased with the money gained across all runs. And persistent missions tell a larger story, so don't worry about character arcs and pivotal moments of heroism...they abound.
There are also several pirates in the game...which may sound shoehorned but, I assure you, are only slightly gimmicky.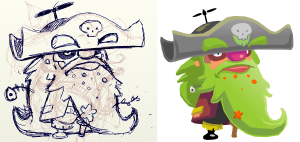 So there's the beefy brief on HELICOPTEROPOLIS, the retro mash-up of two games that have nothing in common, but (by my calculations) will result in something unique and fun to play!
---
Next Time: We examine the challenges of making 2d flight as fun as 3d racing (hint: the solution involves robots!)