So, last night I was chilling on the PC, when suddenly:
The Million Character Game reached the top 14 trended games on IndieDB last night, we got 650+ downloads in two days and we got to IndieGame.com's front page with a post!
Including comments I loved, like:
Jeff wrote: Wow, I'm surprised at how many I can pick out from only a few colored pixels. I guess that speaks wonders about the power of good character design.
Anonymous wrote: Hopefully the game evolves a LOT. The alpha is... ridiculously basic.
That's exactly what I wanted to talk about in this post, the game is beginning to get attention while the game's gameplay is unfinished, or I should say: really far away from the main idea. That's why it is tagged at the Pre-Alpha stage, because the main mechanics, gameplay, etc. is not even finished yet.
You: "Then why did you post it to IndieDB if you didn't want this? It was going to get viewed sooner or later?"
Well, that's a really good question, specially beacause you didn't ask it. The Million Character Game was an unimportant project that I really wanted to make, so two mates and I made the game in a 24 hour live stream to get money for charity (we got $1 ._.), this happened on december 10-11 of last year. We made it and posted it to IndieDB at the very end of the stream, and no one heard of it until a couple days ago.
I recently posted news of all my games, all these together, including The Million Character Game. This was the first news of the game since almost one year, and the only update since the previous version of the game was that it added NES controller support :3
No change at all, but somehow it got some attention this time, and boy, we're are gonna seize it.
So, yeah, people is getting to know the game by playing this build of the game. Well, it's not going to be that way, not even in the slightest way, it is not going to be a platform shooter. It is going to be more as a fighting game, SSB's endless mode style, I think you get the idea: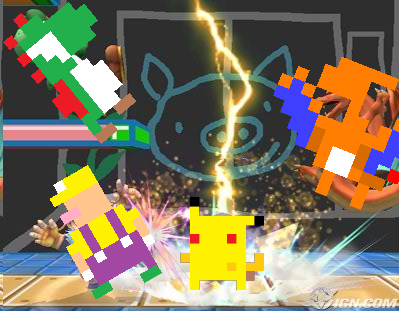 Obviously, there won't be very detailed battle commands for every character, there are way too many characters and way more comming! So I reduced this by two buttons: Attack (Z) and Jump (X).
Every character will have a set of these two buttons. Let's say: there will be one character that punches (Z) and jumps (X), another one will shoot (Z) and fly (X), and some others could explode (Z) and double jump (X).
Variations that are not too complicated, so it is not so hard to make each character and more importantly, that the player knows fast what the character does. Your character will be randomized every 10 seconds, so we want the player to know his controls as soon as possible. This will, of course, be tested. Don't worry, this definitely won't be another SSB clone.
Now that we all know what the game is about, I would like to talk about next update. A couple mates recommended to make the game in 3D, it could be interesting, so I decided to make the test.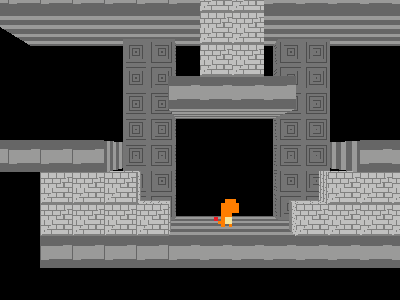 There is no source of light, so it may be hard for some people to recognize the 3D depth (sorry, I made the scenario's sprites :S), so I made the color blind version.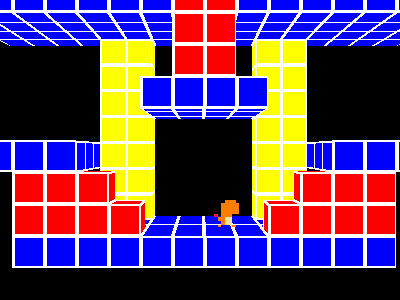 That should be better to see how the 3D depth looks like. So why don't you give a try to these demos? Play them, feel them, and tell me what you think, so we together decide if it stays in 2D or 3D.

That should be all for today. Don't forget to vote on our poll to see which topic we'll base on to make new characters for the next update! It would be great:
So, yes, as I said before, that should be everything for today. Thanks for reading this post, you can expect more news really soon, we are getting really big plans for this game but we don't want to show them because we're not 100% sure about those. We also got our game's website domain name, and it will be cleaned and renewed later.
Anyways, take care!
-TheGreenTie