Originally posted at APathBeyond.com by Chronojam
As you might expect, we've been continuing our heavy testing after nabbing up so many new testers. Unfortunately, MartinMB from the French APB clan (APB-FR) is going to retire from his position, so we bid him good luck with his crew over at CnC Saga. He's been a great guy and he was a great example of what we want in a tester.
The new resource downloader magic that TT cooked up seems to be working great. Over the weekend, we used it to push a semi-surprise new build of the map RA_Bonsai to testers. Upon connecting to the server, a dialog pops up to show you the download source and progress, before joining the game. It's pretty handy, reasonbly easy to configure, and looks to support differing versions of the same map. Server owners could each set up their own independent map respositories, or share one; the download source does not need to be identical to the server.
Speaking of Bonsai (formerly Bonzai), it's been restructured somewhat heavily by ChopBam. There are more interesting terrain elements, better cover for infantry and light vehicles, and more personality in general. Recently, a few collectable weapons were added for players to fight over at the start of a match. This is not as unbalancing as it might initially sound, given that Gamma's gameplay scheme of early game infantry combat... no more waiting for the Ore Truck to get some cash either. Here's an older shot to give you a feel for the general layout; you might notice that the Construction Yards are gone, and in their place you will find a Missile Silo in each base.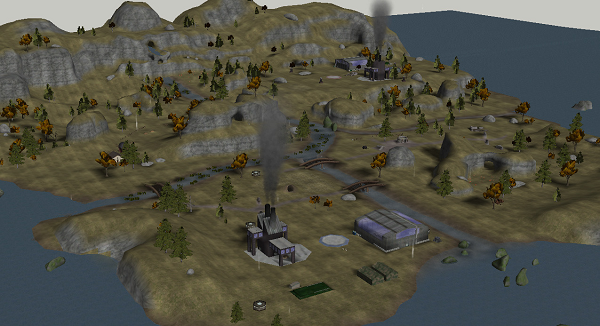 Up next, some good news about some of the framerate issues we've been seeing. It turns out there are some issues with nearly all of our geometry files; basically, all of our most interesting 3D meshes are somewhat broken. This has been forcing the game to perform a lot of recalculation on all of those poor polygons. Everything from tanks to trees to terrain itself was affected by this issue. Saberhawk's come up with a tool that will suck up a folder full of broken junk and spit out some repaired files. Plus, some extra logic in the engine to help sidestep the issue.
Some of the shader effects that were previously marked as dead may be returning as well. A few issues were at work there. Bits of code that had to do with lighting have now been wrangled under control, but there is still a matter of doing a lot of the actual source textures to make things nice and shiny again. The fancy stealth effects currently have a bug that's going to be too time consuming to be out the door day one, but perhaps you'd be willing to live with it... right now, under some circumstances, parts of the stealthy warbles are replaced with a flat blue. The water probably won't be there day one either for Gamma; it seems that it's causing animations to run double speed. There's a potential fix, but probably not for our planned release.
That planned release grows ever closer, as Scripts 4 work wraps up. As I write this of course, a new build full of optimizations is getting put together for the testers.
Our own list of tasks that we'd like to see done before release is really small right now. It's not even important to get them all done, as we'd be comfortable with releasing Gamma right the hell now. Our goal with Gamma is going to be far-more-frequent updates, and hopefully we can wrangle the TT guys into such a schedule. What we'd like to do, and we've said it before, is have perhaps a monthly update that will contain bug fixes, balance adjustments, and new maps, sometimes updating an asset here or there. Certain things make this easier, such as the map download system mentioned earlier. Other things will be handled by the launcher/frontend, and possibly by a third party platform.
So the list of things we'd like to get done:
1. Get the Pillbox finished and put in game
2. Fix bugs and plug in content we've not yet done
3. Updated launcher finished for autoupdates
4. Scripts 4 finished enough for our release
If there's a miracle, we might see the new Heavy and Light tanks go in as well. But that might just as easily be included in a first update, along with some extra voice work.
That third party platform for updates would probably be Desura, by the way. It's essentially Steam for retail games, plus an emphasis on mods or free indie games. It would enable us to give solid mirrors that would always work, and automatic updates. People are generally not interested in running more software all the time in the background, but it's actually not too bad at all.
So, that's a whole bunch of words that translate out to "we're pretty much wrapping things up." Gamma won't be the end either; 2.0.0 won't be the final release at all. However, we do have some interesting things on the back burner for future development, which you'll hear about in time.