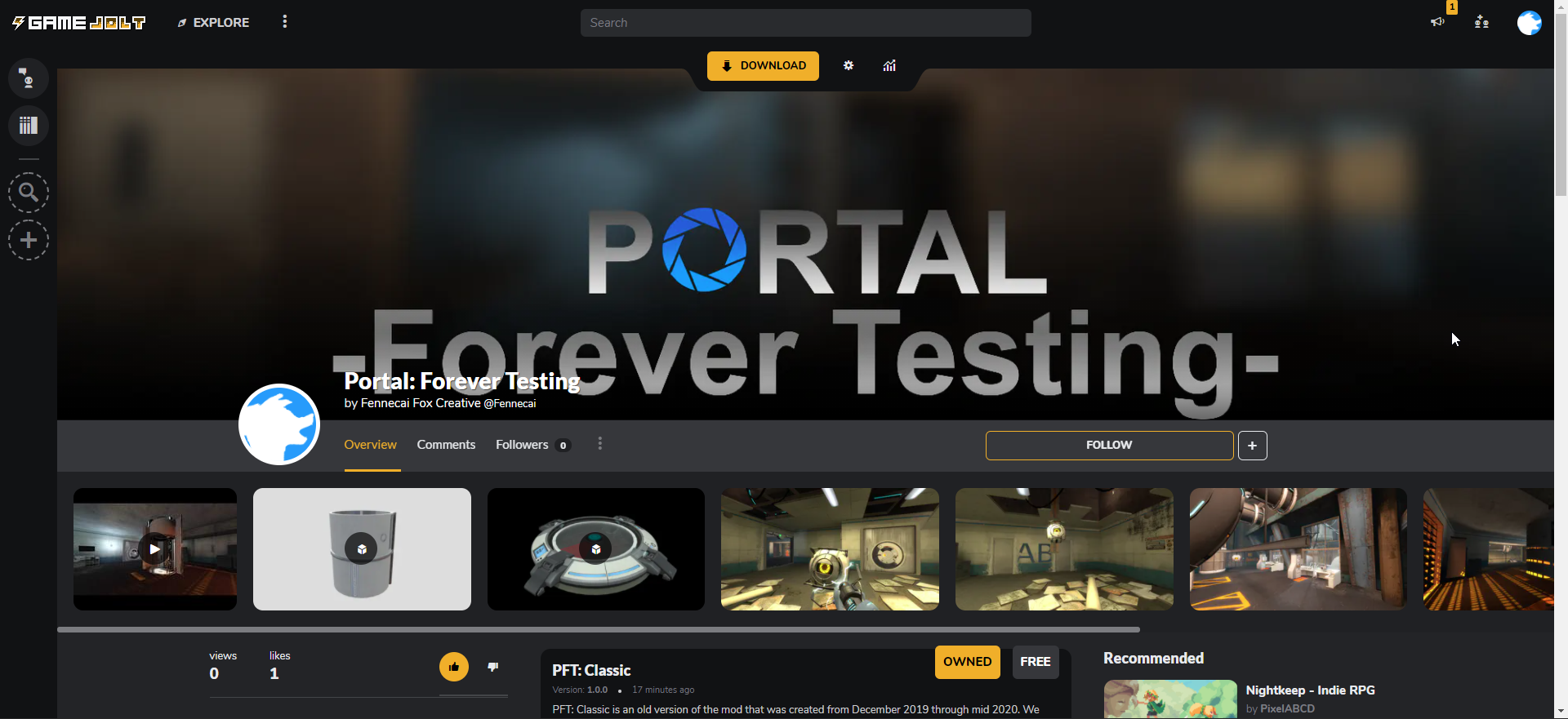 Lately, I (Lead developer Fennecai) have been taking note that, despite my best efforts, moddb.com does not provide the exposure I would like this mod to have. There's really no way to discover the mod here, aside from a single difficult-to-access list which is often sorted by an arbitrary popularity meter that fluctuates incredibly frequently (often giving disproportionately huge boosts to the mod when its updated, even when only 3 people view said updates, then dropping it back down to the low thousands, mere hours later.)
Along with the difficulty of finding this mod, Moddb's portal 2 modding scene doesn't have the best reputation, with some people in the portal community making claims even as far as saying that Moddb.com is where portal 2 mods go to die.
So, although we aren't going to entirely leave Moddb, I've decided to open a new page for the mod on game Jolt and post most new updates there from now on.
"Game jolt? What's that?"
Game Jolt is a website dedicated to posting and developing Indie games, including fan games.
Unlike Moddb, the site has a very modern design, with striking similarities to Twitter and Discord. Think of it like Twitter, but with all the benefits of Moddb and Discord added on without most of the drama and issues of any of the three. It's a great site for indie devs, and Fennecai Fox Creative already has other games in the works there too- such as "Electrosphere" (roll-a-ball style platformer game) and "A place unknown: The Missing World" (a text adventure.)
Along with the modern design, we will also have access to analytics far more detailed than Moddb's popularity meter, poles, better engagement with fans, and more!
If you don't have an account, then, by all means, you may create one. It's free!
"But wait...does that mean this is a fan game now?"
Although we have considered moving to the Unity game engine in the past, no.
"Portal: Forever Testing" will remain as a Portal 2 mod for the foreseeable future.
You can visit the new site and follow us there, by clicking here!