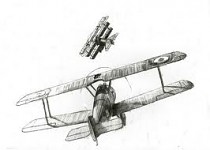 Greetings pilots,
Today marks the first of the montly update for this game that i am developing. I am a one man developer here with the help of a freind who knows the Unity Engine better than me.
Northern Heights is a WW1 Flight Simulator that pays homage to great classic flight simulators like Red Baron, Wings Of Glory, Flying Corps and Dawn Patrol. It would be way different than any flight simulators out there today like Rise Of Flight and Wings Over Flanders Fields. It would be in a singleplayer mode where players can play as pilots from three faction of the Great War. The French, The British and The Australians. You are allowed to fly three planes in the game throught the Great War. The one common plane that everyone knows already is the Sopwith Pup. When playing as the British, you fly this plane. You will also participate in real battles like The Battle of Arras.
I will try my best not to give up on this game like i did with my first game but with patience and effort, i hope to finish this game for you guys to enjoy.