Will I be able to play NinjuBook on Windows or OSX?
The game is being programmed in Javascript/HTML5 so you'll be playing the game right from your browser. Meaning computers running
on Windows or OSX will be able to enter into the same world of NinjuBook!
How far is the game into development?
We are in our very early stages! We have a good bit of graphical work done and our game engine is looking great. I will update frequently on what's being done and added.

What type of game features will NinjuBook have?
Many! This will be an action online RPG unlike any other. You will be able to take on missions to defeat insane boss ninjas, create clans to battle other clans for status, take exams to increase your ninja rank, and rise to become the next Hokage of your village. There will be many other features like unlocking secret rare items, creating the most popular shop in the village, and dueling your friends to the death!
What will the battle system be like?
Thanks to our game's core, Nengi, we are able to produce a real-time battle system that will let you experience what it is to think
swiftly and strategically like a ninja! You will have to use your jutsu's on the fly and feel like you're in a 2D shooter RPG game.
There will be little to NO lag that you'll be able to see on your screen between you and other players giving you a smooth gameplay.
How do I sign up for Alpha?
You must be a user of this community before the alpha is announced and released! Since your input is so important to the future of this game, we need you to be able to try our game and give ideas on how to improve things as well as keeping an eye out for bugs.
When is Alpha being released?
If the community agrees on a simple release and progressive updates on the game then possibly within a month!
Here is a small sneak-peak of what the wood replacement jutsu looks like in-game!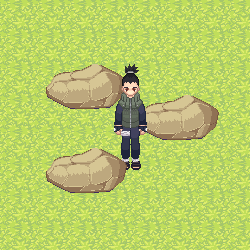 You've read this post! What are you waiting for? Sign up and become a part of the community now!