Welcome IndieDB users!We, CodeDaemons Studio want to share with you guys our current project - Puzzle Masters. This article is fifth episode of our so-called Weekly Updates. For previous posts please refer to our website - codedaemons.com

---
Welcome to our another Puzzle Masters Weekly Updates issue. During last week we focused on polishing special effects of skills, abilities themselves, as well as some AI improvements and new solutions. Our particle system received some additional work letting us create better effects that will please your eyes.Smarter AI will force you to play more reasonably and strategic wise.
Sound effects system has been put into existence, we have also selected some placeholder sounds from Heroes of Newerth to already give you better feel of the game even at this early stage. However our musician (Chris Sinnott) has already started his work on our original sound effects and judging by early samples we are really excited.
ANtY prepared some early campaign scratches and from what I can tell there will be 6 different beginnings for each class accordingly. It already looks awesome just at the design stage so you can definitely look forward to fun and unique adventure. Estimated length of campaign is about 3 to 5 hours.
Toxotes, our artist after busy days at his work finally found time to do some more concepts and provided us with another samples of graphics that you will see in our game. And here comes the question for you, below you will find a new gui and board with 3 different styles of gems. We want to know which one you like the most. Please leave the comment below with the feedback. That's it for today's episode.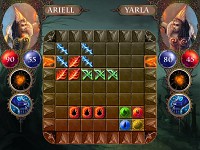 ---
To stay updated follow us on Twitter, Facebook and our Website :)