Greetings fans of the INTverse! I hope you enjoyed our last update, which was a recap of our time in Clifton Forge for Con of the Mountain. This week we will discuss some new developments with the INT Project and how you can get involved.
Let's dive in!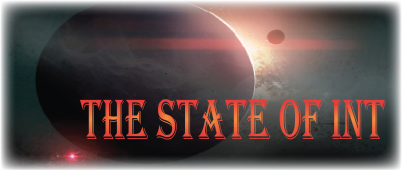 This week the INT Project has begun to prioritize new milestones a goals leading up to the February 25th Convention in Raleigh North Carolina. At this convention, we will be showing off more gameplay, features, companions, and locations. It takes time to prepare for a convention of this size though! You will be hearing more about our plans for Playing Through and cross-media initiatives, as we get closer.
In addition, our web administrator, Michael, has completed a redesign of the INT-Game.net website. The new website features allow you to navigate the content that we have available, tune in to our Rogue Space episodes, and view weekly updates in a much more user friendly way. In addition, we will have some big news to share soon about finding Rogue Space on ITunes.
Here is a screenshot of the new design of the INt-Game.net website. Please check it out here: Int-game.net.
Next, I would like to share some amazing work from Matt, our Art Lead, and the Art Team.
This is a screenshot displaying the particle effects present on the roof level of our internal test build. We shared some in-game screenshots of this last week.
Here is another screenshot displaying the landing pad on top of the player apartment building.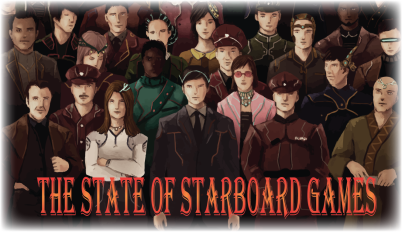 Starboard Games LLC is in the process of preparing for our next convention, but we also have some exciting news about the Initiation. As teased last week this comic project is near done and we had a prototype at Con of the Mountain. Expect to see some more news about this in the coming months as we share our plans about this comic and how you can get it. You can read more about this project here: Starboardgamesllc.com
Finally, I wanted to take a few moments and talk to you about how you can get involved with the Starboard Games LLC/INT Project Team.
We are looking for talented individuals to join our team. Unlike some indie game projects we have attended several conventions, have a working internal build that has been shown to the public on two occasions, and a great, stable, team.
Unfortunately, from time to time, people leave indie projects especially ones that are rev-share. Due to this, we are always looking for passionate, dedicated, and team-focused individuals who want to join us and help create this amazing, original, IP.
John Shen, our HR Lead, is always on the lookout for talented individuals. If you have a skillset that fits our job ads please apply. Even if you have a skillset for something that we are not advertising for please apply because we maintain a short list in the event of future openings.
Here is a link to what we are currently looking for: Indiedb.com.
If you want to join a stable indie project, have an opportunity to network, go to conventions, and build your portfolio while working on an original IP then there has never been a better time to join our project.
I look forward to talking to you more when you apply!
If you are interested in becoming a developer for our project then please check our newly designed website, int-game.net, or contact our HR Lead, johnhr@int-game.net.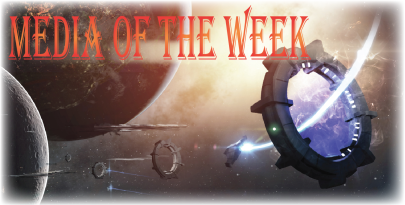 This week we will be highlighting the finalized ARS Railgun. This original concept was designed by Kong and the new model was constructed by Josh.
Here is the concept art for the ARS Railgun.
This is the finalized model. As you can see, the model is extremely close to the concept art. The railgun is an extremely powerful, heavy weapon, which can only be used if you have the pre-requisite skill. It will wreck the enemy. That I can assure you!
I hope you enjoyed this update, which discussed the newly designed website, displayed more of the rooftop assets, revealed the ARS Railgun model, and discussed how you can get involved with the INT Project.
I look forward to hearing from you and please comment below!


Thanks,
-Justin