Infinity PlayDate changes
Well, we've made a few changes to the time schedule for the PlayDate. We noticed 12 GMT probably isn't the best for most people around the world (hey we're good, but not that good), so here's the "new" time table with a few new games added!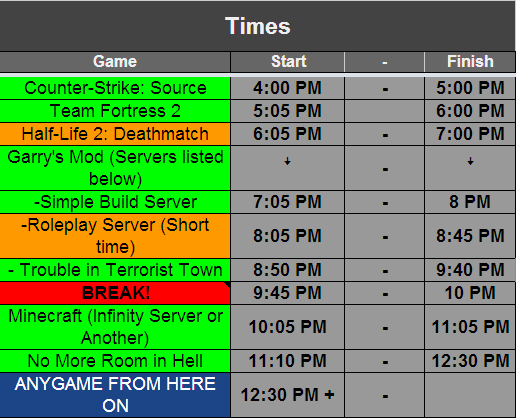 No promises that these times will stick.
Also we was considering using Ventrillo to keep everyone talking, but we figured Steam should do the job pretty well, as then no one will have to download anything as we are all gathering in the Group anyway.
But keep sending the games our way! Try to keep it something that most people have! Thanks. Oh and I'm also trying to get sponsored for a gaming marathon for charity!
Also, THE PLAYDATE IS NOW ON THE 20th OF OCTOBER!

Also, THE PLAYDATE NOW STARTS AT 4PM GMT (Or if you're a wiseguy, 4PM BST)
Sponsored Event
So, do you plan on staying up all night for the PlayDate? Why not make yourself a better person and help out a child in need in your local area.
We are doing a 24 Hour gaming marathon all day all night not only for ourselves but now to help charity too. I will be trying to get sponsors over the next two weeks and we also have the Infinity Interactive Group on Extra Life.
How does this work?
Choose what local hospital the money made will go to.
Try to get as many sponsors as you can!
Play games over the next 24 hours!
You get to choose where your money is going to, so you can support a local hospital in the area.
If this goes will, we will make it annual!
Also no, you don't have to be a part of the charity, if you'd like to just join in with the gaming feel free! The PlayDate is more about us, the charity event is just a way we'd like to help everyone's local children's hospitals.
And of course with every event, a free image to spread like jam.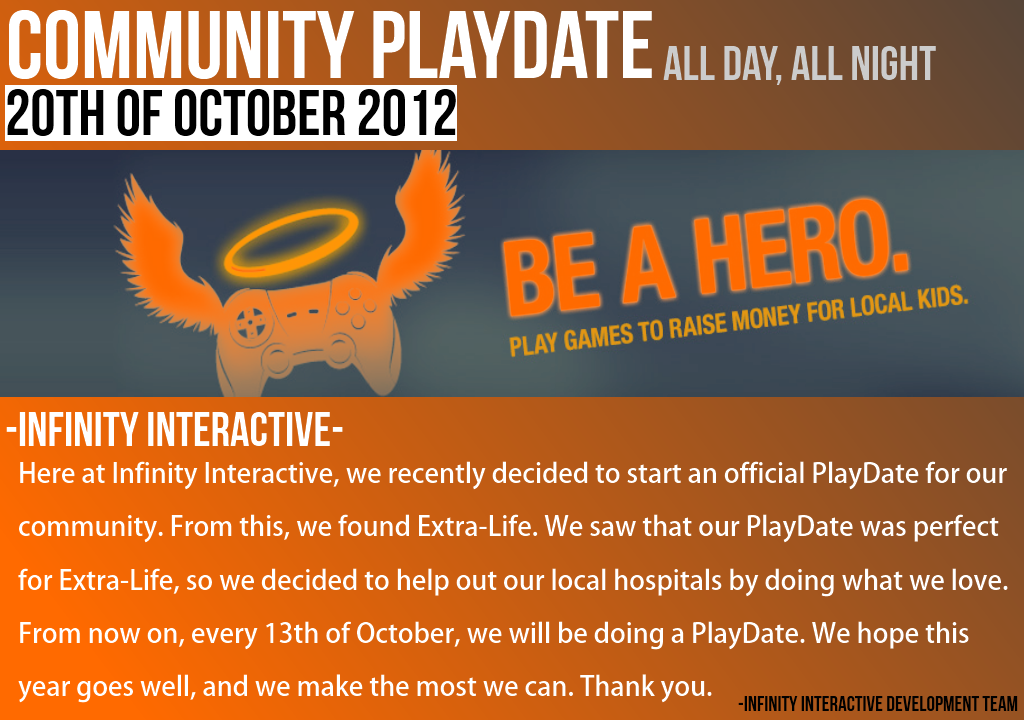 War of The Servers
Well, for War of The Server we thought that it would look nice and shiny if that we had had map specific loading screens, for example, if loading a server that's playing powerplant, then powerplant has it's own music, image and description in the loading screen. We got a little piece of music worked up for Powerplant already, check it out. (not finished)
Blame Drako!
Well, not much this week guys, sorry. Big update next week as well as being on time, I assure you <3