NEWS
Since we've been working hard here at Deathmatch: Ultimate I see nothing wrong about releasing the weekly update a tad early. In this update we will go over what we've done, and how much closer we are to completion.
This week has been a hard week for both of us. I've been working on the programming, website design and what-not where as Vimelin has been hard at work designing the maps. He is currently working on a Parking Lot style map which features both above ground, and underground parking. So expect some screenshots of that shortly. Our progress is listed below. Not to mention
Programming (45% Completed)
Weapon Re-Skins/Changing (95% Completed)
Mapping (15% Completed)
FEATURES
This week we've got some juicy tid-bits. So here you go, something for your eyes to devour.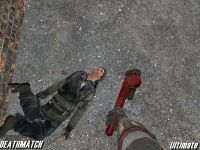 Our Crowbar has been replaced with a Wrench. Much more satisfying for busting heads.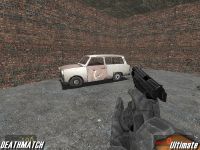 And we've replaced the HL2 Pistol with the TS Gyurza. Very nice, and sounds good too.
Honorable Mentions
The entire Ultimate Dev Team would like to send their condolences to the family of iGuy. He was the weapon animator for Lost World Source and has passed away. May he rest in peace, we shall complete and finish this mod for a fellow friend and gamer.