Welcome to the first in a series of weekly updates dealing with the development of Goldfinger 64.

First we'll take a look at this early overview map of a new mission; Prison.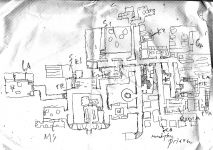 What's interesting about it is perhaps that the original scene only takes place in two rooms, as well as a corridor. Does this mean that most of the maps will be completely made up? In a sense, yes. Scenes and sets from the movies will definitely be found in the levels, but we'll try our best to extrapolate on the themes and settings to create more intricate and wider surroundings, to fit the interactive medium better. And let's not forget Frigate, Depot, Dam, Surface, and Complex, scenes from the original game where the other areas are only hinted at, at best, and sometimes Bond wasn't even there. So it's mainly about creating an interesting experience.

That'll be all for this time. Not much, but the weekly updates will get more meaty as the project progresses.

monkeyface, away.