Hello all, this is our first news update about the game to the public. If you're reading this, thank you for taking the time to join us on our journey of exploration into the world of game development.
Right now we've got a pretty good sized team, all of whom are very talented individuals and we just had a colorist officially join us, so our art should come out looking even better than before!
While our focus has been primarily conceptual as of now we're really looking forward to adding a few talented programmers who believe they are capable of handling the game code. I recognize that our established engine is Torque3D, but as we have yet to find a dedicated programmer (Pretty important piece there.) we've yet to truly finalize our engine. At the end of this message is a list of open positions on our team, if you'd like to join then feel free to follow the instructions at the end.
But lets not forget about why we're ultimately here, to update you on where we're going in these next few weeks and where we've been.
First, we've set ourselves a focus to complete zones, one at a time each month. Starting from conceptual work to finished products. This has been pretty successful. Some strong tracks have been in the works in the sound department. Our conceptual artist has finished the royal trio of siblings. Our linguist is finalizing bits and pieces of the official Elven language. Conceptual artwork for the zone is being finalized, though without a dedicated artist it's been up to my shoddy attempts to create these vivid... masterpieces... We'll just call it that for the sake of my ego. The royal trio is being colored, however they are now being re-colored by our wonderful dedicated colorist to create a better sense of what we intend.
Our plant/weapon modeler has created some excellent designs for Elven Kingdom shields and plant-life that might be found around the kingdom grounds.
Our world lore is finalized and our current character images should be receiving a second update due to the addition of the colorist.
In case you've yet to see them yet, here's a few of our newest images.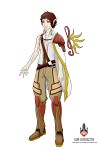 Galexgan is the young prince of Lightsong. He was adopted into the family after being switched at birth with Grem'gol's twin sister. Galexgan is vastly jealous of his older brother and wishes to be like him. He is arrogant and vain. Despite his cold concern only for himself, he has a heart that hurts for the pains of his people. He tries to mask his own pains through his deceitful demeanor. He is skilled in magic and is agile despite his frailty.
Has a fondness for canine animals.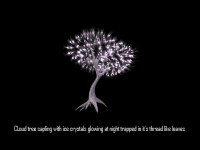 Our model of the Cloud Tree. Though the name is merely a placeholder the concept and lore remains.
The Cloud Tree was first found on the Islands of Lightsong. Unlike other trees, this one gains its moisture not through a canopy of leaves but rather by very large and sporadic white leaves which draw surrounding clouds and moisture to it. While entirely unique and quite beautiful, the inhabitants of the island cut most of the trees down due to the constant moisture and rain that the trees create.
The few that remain on the island are located closest to Bright Castle, where they draw a continuous source of freshwater water for the main island residents.
The tree is not native to the Stillwater kingdom, however as part of an agreement that bonded the two kingdoms forever, a set of young cropping's were given to the residents of Stillwater. The tree now covers the lake island kingdom in mist to protect it from invaders from the south and west.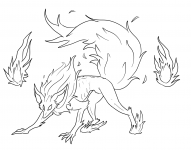 The Fire Fox blank conceptual art. Right now this creature looks pretty bare, but we're hoping that with our gifted colorist we'll be able to make this creature come alive with bristling fur. Note the unique appearance to the creature. It draws some similarities to Foxes of this world, however due to the fact that Lutheria has an entirely unique ecosystem, various wonderful creatures of different appearances have had the chance to grow.
That covers most of our news this week. Thanks for checking in with us, and if you're interested in joining our team just take a peek at our needs below and feel free to leave us a message.
A big thank you and shout out to our current team.
Caitlin, the Colorist.
Debapriyo, the 3D Modeler.
Gonzalo, the Character Artist.
Luciano, the Linguist/Composer.
Mote, the Composer.
Ranson, the Script Writer.
Our open positions as of right this moment:
Programmer x2: To craft the core, the game itself. As it's still early in development you would hold a lot of power in the overall construction of the game.
3D Character Modeler x2: To provide our world with 3 dimensional life. We have a plant/weapon/prop designer, but would really love to take on board a dedicated character modeler as well.
3D Environment Modeler x2: To create the world itself. We need houses, props, castles, halls, more props, rocks, even more props, enough props to fill a cavern with. Hahah, in all seriousness, looking for some dedicated individuals to help craft our world.
2D Environment Concept Artist: To create gripping conceptual images of the world in order to better communicate our ideas to the team, and to our real world.
If you'd like to contact us about these positions, (Have questions about the pay, the time committment?) please feel free to leave a message at LoreInteractive@gmail.com , or leave a comment and we'll be sure to try our best to get back to you!
Thanks again,
Galexgan