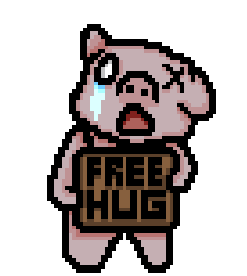 HaHa Isn't he cute? Let me introduce the first zombie type monster in this game.

(original concept)
He was originally planned as an ugly frog like monster with free hug sign.
However frog seemed unfitting for a slowly moving zombie like monster. I wanted to use mammal.
Though pigs are very handsome and cute, I decided to use them as my "ugly and slow-fatty".
I am a bit bitter however. It took me a full week to draw him. In other words, I was not able to advance in terms of programming.
I can only do either coding or drawing. I need a way to manage my time to be effectively develop this game.
i am planning to focus more on coding next week. Hopefully I will be able to come up with more interesting "in-game" news next week :).