<!-- begin content -->

Weekly GP Weapon Sales!
DATE5/5/2010VIEWS24226
Attention Soldiers!
This May, we bring you exclusive and exciting GP sales! These are no ordinary sales. Starting May 5th, we will rotate an NX exclusive weapon for sale each week...for GP purchase! This amazing opportunity begins with the M110 SASS, available for one week only (until May 12 at 11am) at the following prices: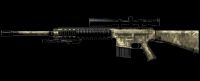 1,800 GP / 1 Day
8,820 GP / 7 Days
35,100 GP / 30 Days
97,200 GP / 90 Days
This
purchase option is available in-game only, so get shopping, because
this deal won't last long...and check back each week to see which NX
exclusive weapon is on sale next!
--Combat Arms Command--