The Canals: Weekly Update
Today's Date: November 20, 2016
Week 4 of development
Welcome to a weekly update on 'The Canals' mod here on ModDB! This is a weekly update posted every Sunday around 10PM Eastern time USA. This is my way of releasing an update on a weekly basis without spoiling the entire mod for you. To keep it simple, this will list each of the planned ten maps of the canals, and give you an estimate of the percentage complete. This will most likely also include some other little details on my map making process and small comments on the map I am currently working on.
Map One (Sewers): 98%
I'm getting close to finishing this one up. I haven't been able to work on this as much as I wanted to, but I am certainly making progress consistently. All this map needs now is some final touchups, completed sound implementation, and the entities needed to make it link to other maps. I'd rather not show any more areas in the map, because then it would become too spoiled for you all. I can, however show you two pictures of completed spaces, that have received some updates to their lighting or props. I'll show those down below, compared to the originals, then I will pull the originals down. Anyway, I'm getting excited, this map has shaped up into something cool, and pretty fun to play, with some classic puzzles and some new-style ones.
Here is that side-by-side of this room I was talking about. Basically the same, but I adjusted the lights to make the space a little more creepy, in an attempt to stick with that 'horror' vibe.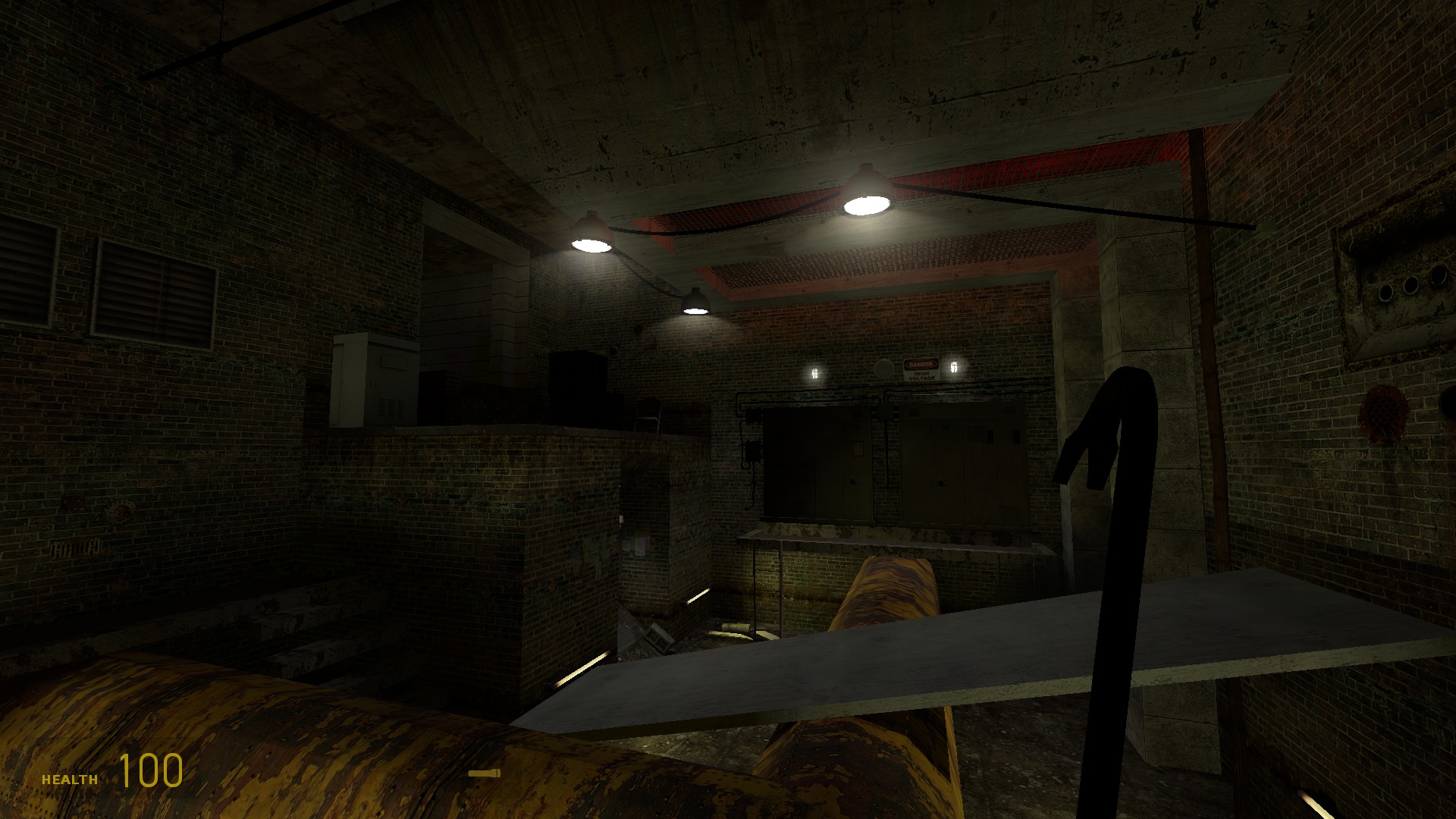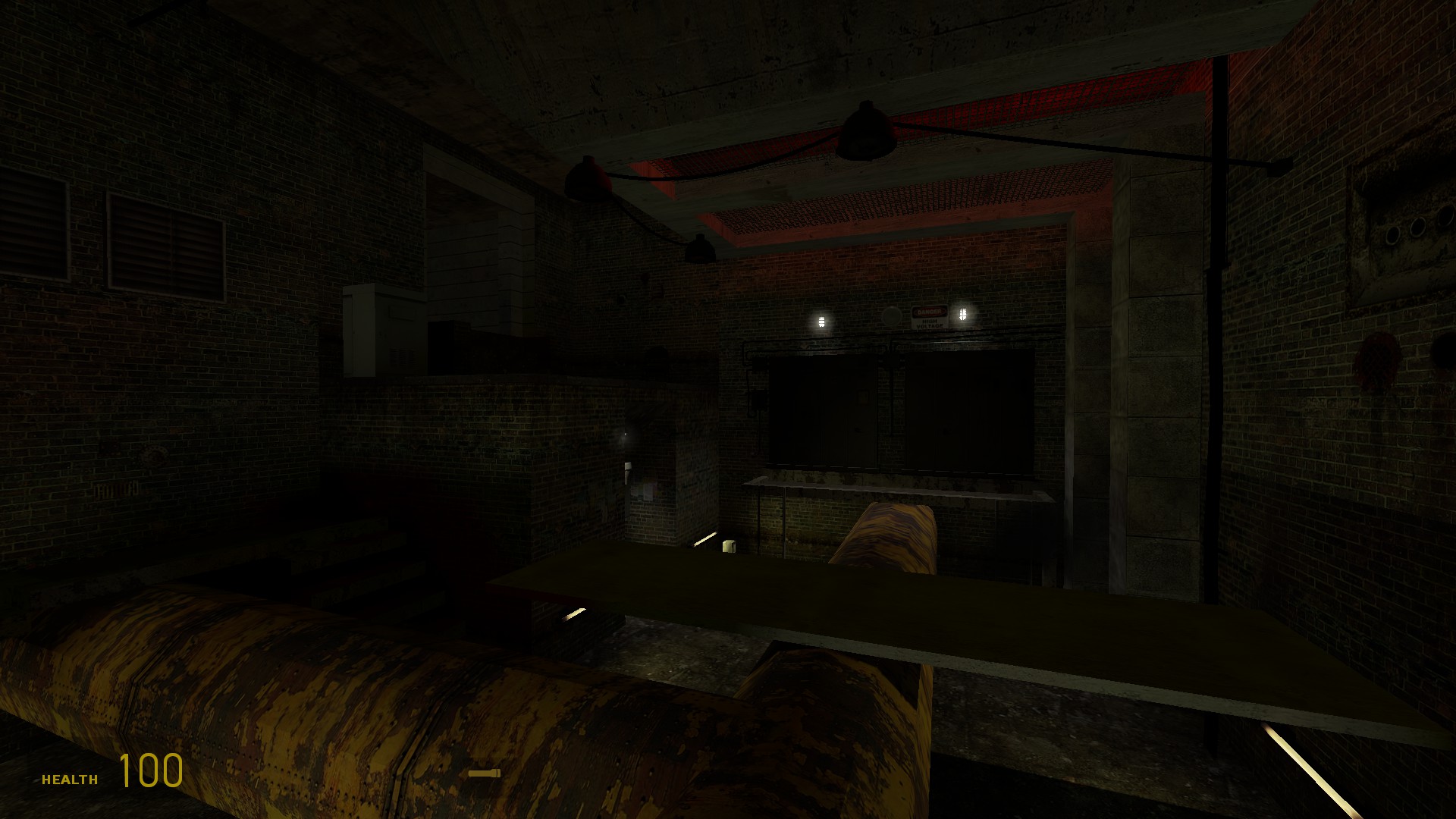 Here is a hallway, you probably saw this at the end of a previous update, but I never posted a formal screenshot of it.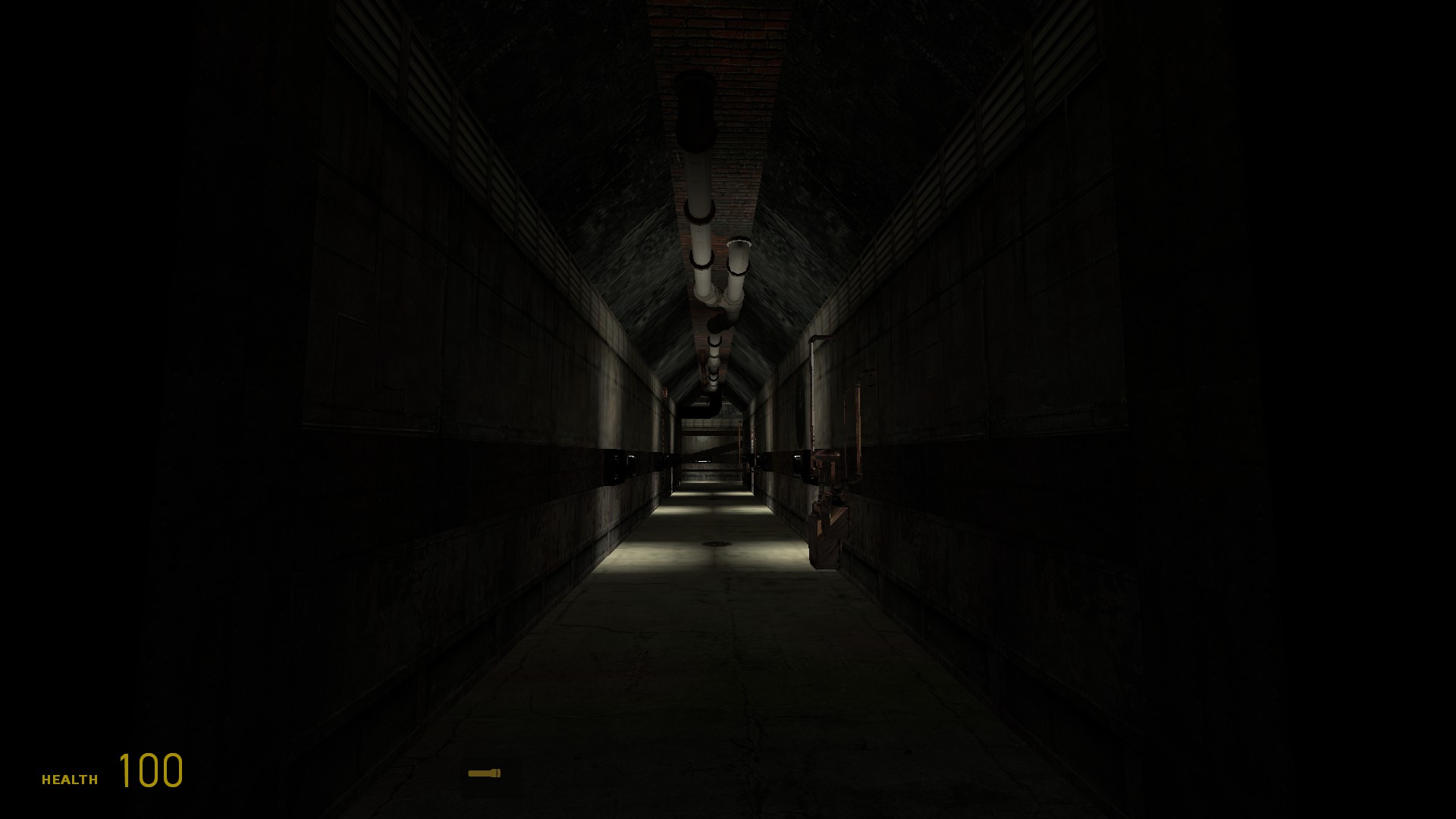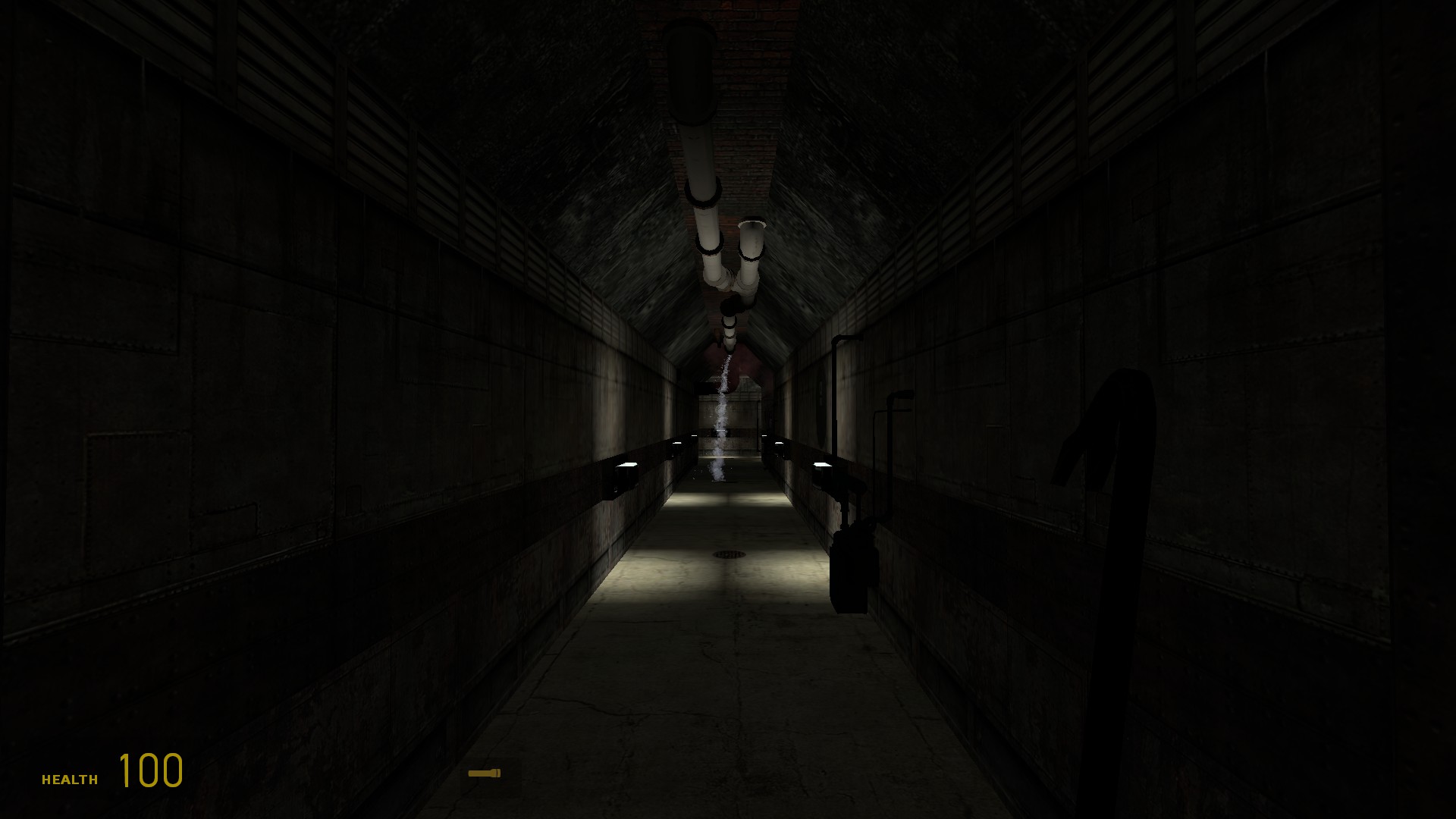 I also decided to crack and show you guys one more room, deciding that it wasn't too much to show for now.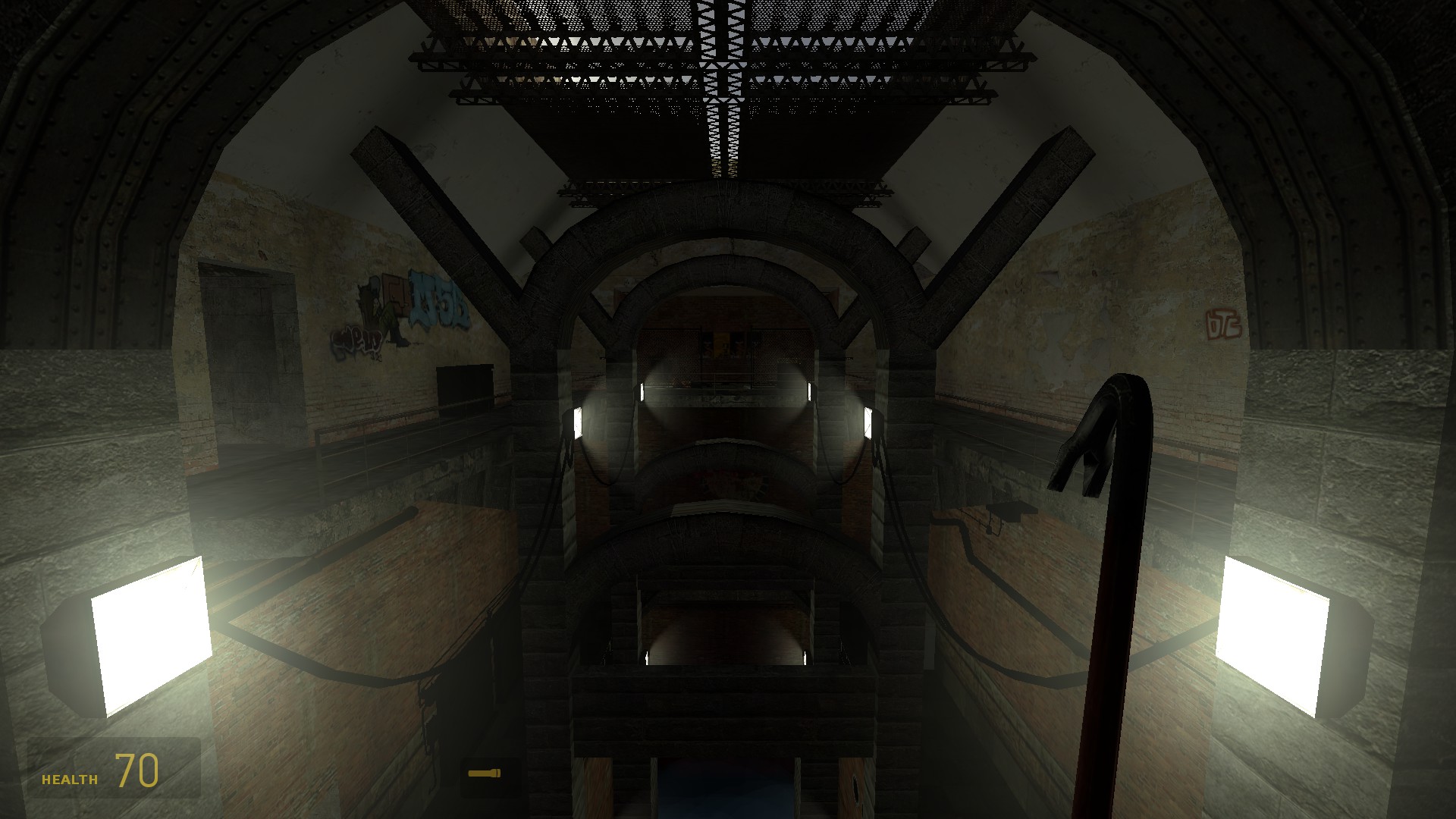 Map Two (Sewers): 3%
I haven't finished the first map yet, so I didn't want to get started here, but I have a pretty good idea of what I would like to do with this map.
Map Three (Canals): 0%
Map Four (Streets): 0%
Map Five (Canals): 0%
Map Six (Canals): 0%
Map Seven (Sewers): 0%
Map Eight (Canals): 0%
Map Nine (Canals): 0%
Map Ten (Factory): 0%
Additional Development Notes
Let's see. Well I would like to say that last week ended up being pretty busy, and so will the next two weeks. This is because of college finals, and I have a lot of projects to do and finish. So That is most likely why I haven't gotten started on the second map yet. I apologize for those delays, and I hope everyone understands. On top of that, I will be going back home for all of December, and I will not have access to my computer. I cannot promise consistent work during this period of time, but I will probably be able to get some work in here and there. This is all thanks to my close friends and team member, TwiggyD. That pretty much sums up this update. Keep tuned to see more stuff next week. Of course, if I feel like the work over this week isn't sufficient for an update, I will be skipping that one, but I hope that won't be the case.
Thank you,
Reeze The Vampire